Beauty & Self
Books & Music
Career
Computers
Education
Family
Food & Wine
Health & Fitness
Hobbies & Crafts
Home & Garden
Money
News & Politics
Relationships
Religion & Spirituality
Sports
Travel & Culture
TV & Movies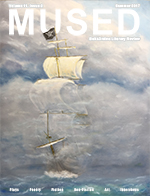 Our time on this Earth is fleeting and precious. We often know that in a vague, intellectual sense, and yet we can find ourselves whittling away those finite minutes without mindful thought. We should celebrate the beauty in a child's smile. The radiant sound of saying "I love you" to that special person. The warm touch of a hand. The delicate scent of a wildflower.

Enjoy the Mused Summer Solstice 2017 Issue




Beautiful Planet – film review
Astronomy - Mona Evans, Editor

The Milky Way contains billions of stars and planets, but Earth is to us the most beautiful. The thin skin of our atmosphere protects us from many space hazards, but can't protect life on Earth from human-made hazards. Tony Meyers's new film A Beautiful Planet 3D says only we can do that.




The Great Die-Up
History - Vance Rowe, Editor

The winter of 1886-87 was particularly brutal in the then territories of Wyoming, Montana, and the Dakotas. Millions of cattle died and basically ended the cattle industry as it was known then.




Beauty And The Beast (2017)
Movie Mistakes - Isla Grey, Editor

Can Belle fall in love with an ominous Beast? Try to find these movie mistakes in 2017's "Beauty and the Beast".




Gone Black Book Review
Suspense / Thriller Books - Karen Hancock, Editor

Nicholas Black and Claire Morgan are finally tying the knot, but Black is kidnapped on his way home from France, and doesn't make it to the wedding. He is being tortured, and needs help. Claire and Black just may not survive.




The Constitution and Public School Policy
School Reform - Maeve Maddox, Editor

An irony of the current turbulence in public education is taking us back to the beginnings of the Republic, when only the people with means could educate their children.




Pesticides Hurt Sperm
Infertility - Hannah Calef, Editor

Consuming a higher pesticide load may reduce male fertility



| Google+ |

E D I T O R R E C O M M E N D E D
OSTRICH - A Little Book About Lifeīs Ups and Downs


OSTRICH - A Little Book About Lifeīs Ups and Downs is a self-help manual of sorts to help women find their balance and their way through lifeīs many mazes because Life Is What Life Is - Nothing More and Nothing Less... A unique book for women in a rhyming saucy, seussy entertaining style with a New Age attitude. Itīs eclectically styled, wisdom gone wild for a womanīs inner child. By Kate Woods
Ni Hao, Kai- Lan: Super Special Days DVD


This Ni hao, Kai- Lan DVD: super Special Days is great for preschoolers who are fans of the show, or for preschoolers who need help identifying and managing negative emotions.
Stranger Safety Video


From Julie Clark, the mom and creator of the Baby Einstein series stars as the super energetic safe side chick in her highly entertaining, yet kid-sized educational video to teach children about strangers. Julie Clark, along with John Walsh the host of Americas Most Wanted Show have created a video packed with sound advice on Stranger Safety for kids age 2-10.