Beauty & Self
Books & Music
Career
Computers
Education
Family
Food & Wine
Health & Fitness
Hobbies & Crafts
Home & Garden
Money
News & Politics
Relationships
Religion & Spirituality
Sports
Travel & Culture
TV & Movies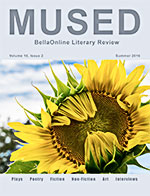 For many people, summertime is the perfect time to explore creativity. Plein air artists bring easels to gardens and beaches, showcasing nature's colors in oils, acrylics, and watercolors. Photographers ferret out a million sights to immortalize. Poets and writers stretch languidly beneath a shady oak tree, listening to the gentle buzz of insects, and constructing entire worlds out of the ether.

Enjoy the creativity of our community of artists - and then explore your own! We'd love to see your works for upcoming issues!

Summer Solstice 2016 issue of Mused


Shanghai Film Review
Drama Movies - Angela K. Peterson, Editor

A throwback to the classic Hollywood style of "Casablanca" and "Shanghai Express", this film is a romantic espionage thriller starring John Cusack as an intelligence officer who investigates the murder of his best friend, and in doing so, stumbles across the Japanese plan to attack Pearl Harbor.




Il Lavoro Chiacchierino #19
Tatting - Georgia Seitz, Editor

Il Lavoro Chiacchierino #19 2016 pub Casa Editrice Mani di Fata, the newest issue of the Italian tatting magazine.




The Haunted Castle of Illinois
Paranormal - Deena Budd, Editor

Villa Kathrine is a Moorish-like castle built on a bluff overlooking the Mississippi River in Quincy, Illinois. It has such an interesting history that I am not surprised to find a few spirits involved in the legend as well.




Reducing College Stress
Distance Learning - Patricia Pedraza-Nafziger, Editor

Creating a balanced lifestyle is a great way to begin minimizing stresses in your life. Managing your activities and organizing them in a fashion that makes the most of your time is one the keys to eliminating factors associated with stress.




Dali chi Bhaji Recipe
Indian Food - Sadhana Ginde, Editor

Dali chi Bhaji or usal (Stir Fried Moong Dal) is a tasty & easy to prepare dish thatís packed with protein. This healthy Maharashtrian recipe can be eaten for breakfast, as a tea time snack or as a part of any delicious Indian meal. This dish is pure vegetarian, vegan, low carb & gluten free too.




The Beaches of Coronado
California - Korie Beth Brown, Ph.D. , Editor

Looking for a great San Diego area beach? Coronado Island has plenty of them!



| Google+ |

E D I T O R R E C O M M E N D E D
iPad Tablet Computer


The iPad is a great tablet computer for surfing the net, checking email, playing games - all while being light and portable.
Your Adoption Guidebook


Considering adoption and not sure where to start? This handy guidebook is for you! Youíll find everything you need to decide if adoption is the right path and then learn how to begin the process.