Beauty & Self
Books & Music
Career
Computers
Education
Family
Food & Wine
Health & Fitness
Hobbies & Crafts
Home & Garden
Money
News & Politics
Relationships
Religion & Spirituality
Sports
Travel & Culture
TV & Movies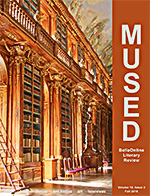 The autumn equinox, that balance point of light and dark, is closely tied to the moon. In China the Moon Festival happens around the autumn equinox, celebrating gratitude and the warmth of good friends and family. This year it was Sept 15th. Our last eclipse of 2016 was a penumbral lunar eclipse on Sept 16th. It fell in conjunction with the full harvest moon, also a symbol of thankfulness and appreciating those who care about you. The autumn equinox is a perfect time to add to those celebrations. It's a wonderful moment to treasure all we have and to share warmth with those who support us.

Autumn Equinox 2016 issue of Mused


A Few Good Reasons to Knit Socks
Knitting - Korie Beth Brown, Ph.D., Editor

Why would anyone knit an item that costs only a few dollars at Target? Well, knitters have good reasons!




Yoga For Paddlers
Yoga - Korie Beth Brown, Editor

Paddle sports such as kayaking and canoeing require a strong yet supple core. Here are some ideas for using yoga to improve oneís paddling.




Enjoying a quiet weekend in Bangalore, India
Romantic Getaways - Marianne de Nazareth, Editor

Sitting quietly at home in the company of a good book can be rejuvenating over the weekend.




Women with Long Flowing Hair in Art
Art Appreciation - Camille Gizzarelli, Editor

Carved nautical figureheads may come to mind when you think of women with long, flowing hair. Iíll discuss artists that use this stereotypical 'attractive' woman as models.




Bath and Body Oils Scenting Your Way to Soft Skin
Fragrance - Juliette Samuel, Editor

Thereís nothing like a soothing oil that can be used for bath as well as body. Stepping out of the shower or tub and being met by a blend made just for you, is a special treat. Learn how to make a special blend for yourself.




Growing Herbs for Ethnic Beauty
Ethnic Beauty - Juliette Samuel, Editor

While we donít all have acres and acres of land to grow our food and herbs, so a pot garden can serve the same purpose. Learn about herbs you can grow for the beauty of your ethnic body.



| Google+ |

E D I T O R R E C O M M E N D E D
Original Cat Design Products


From Cafepress - Purchase a wide varity of quality products, from t-shirts to magnets, tote bags to mugs and much more, with this original cat design, created by the editor of the Cats Site.
How to Buy Your Next Car


A true car buying expert explains in detail how to buy your next car. From credit and financing to dealer cost and sales tactics, "How to Buy Your Next Car" is full of insightful information to help you avoid making typical car buying mistakes.
Investing $10K in 2014


Looking to invest in 2014? This EBook will show you how to create a simple portfolio that helps you invest successfully in any year.