Hello, and welcome back! I hope you´re all taking a bit of time away from the business of the season to relax with one of the new romances available now. And I´ve got a few new ones for you. Ready?
First up is Cassie Edwards´s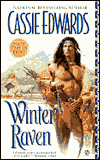 Winter Raven (Signet Historical). Holly Wintizer is on the hunt--first, for her stepfather for murdering her mother, and second for Jake Two Moons, who´s wanted for murder and bank robbery. Winter Raven is also looking for Two Moons, his twin. Naturally, the two paths cross. With a vicious man on the loose, and white bears visiting, things get interesting. But for me, this one doesn´t work, mostly because the romance is resolved before other issues, making the romance seem secondary. I´m only borrowing two of Cupid´s five arrows for this one.


Next is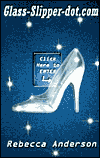 Glass-Slipper-dot.com by Rebecca Anderson (ImaJinn Books). Eileen Pringle has been granted a wish, the wish of her heart. Except she has to figure out what it is. Daniel Manatucci, aka Daniel Collins is looking for a hacker at her place of employment while she´s been on leave. When the two have to work together to find out who´s been sabotaging the computer company she works for, sparks fly. But Eileen thinks she wants her boss, longtime friend Brock Van Buren. With the help of her fairy godmother, er granter, she might just get her true wish. Interesting concept. This one earns three of Cupid´s arrows.


Finally, we have Susan Meier´s latest,

Hunter's Vow (Silhouette Romance). Abby Conway, the waitress at the diner in the Brewster Baby Boom series earlier this year gets her own story! When Hunter Wyman comes back to Brewster County, Abby just knows it´s because he wants to be with his son--her son--and her. But Hunter doesn´t even know he has a son, and when Abby blurts it out, he´s thrown for a loop. Hunter doesn´t believe in the kind of love he and Abby had seven years ago. His experiences have proven him right. But Abby still does, and is determined to show him he´s wrong. This is a heartbreaker, guys, because it´s going to take Hunter a very long time to believe again. I´m giving this one four arrows.


Till next week, happy reading. And happy holidays!