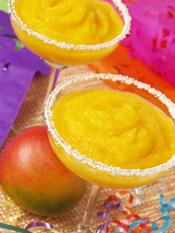 Looking for some special drinks to serve at your Halloween party this year? Try mangos! They are nutritious, delicious and the orange color makes the perfect presentation for your ghosts and goblins. There are a few suggestions for your little revelers as well as some "spirited" offerings for the adult partiers.
MANGO-BANANA SMOOTHIE
serves 2
1 small banana
1 cup apple juice
1 cup plain yogurt
1 Tblsp honey
1 cup crushed ice
1 ¼ cups mango slices
Blend all ingredients until smooth
Kids also love a MANGO MASH
Take a slightly soft ripe mango. Squeeze and roll the mango on your kitchen counter until the flesh inside feels broken down. Try to keep from breaking the skin. Snip off the top of the mango with a knife or scissors and serve to the kids. The suck out the pulp and juice from the top hole and it's like drinking a smoothie!
Now for the adult trick –or- treaters, I highly recommend the Mangorita, a refreshing new spin on the classic Margarita.
MANGORITA
serves 2
Ingredients:
1 cup crushed ice
1 large ripe mango (peeled, pitted and diced)
½ cup Tequila
2 tablespoons fresh lime juice (reserve a little to moisten glass rim)
sugar
Puree ice, mango, tequila and juice in blender until smooth. Moisten the rims of 2 margarita glasses with reserved lime juice and dip glass rim in sugar. Pour the beverage into glasses and serve. Garnish with a lime slice.
MANGO COLLINS
1/3 cup mango juice
1/3 cup lemonade
1/3 cup Sprite
Vodka (optional)
ice/rocks
Make a pitcher of this refreshing drink for the whole crowd. Just mix equal parts of mango juice, lemonade and sprite, stir with ice and serve. Add Vodka if you prefer a more spirited version.
MANGO CHILL
3 oz mango juice
1/3 cup of lemonade
1/3 cup of pineapple juice
ice /rocks
Shake the above ingredients in a shaker with ice, then pour into cocktail glass and serve. Garnish with a pineapple slice.
MANGO FACTS
Mangos provide over 20 vitamins and minerals
Mangos are rich in Vitamins C and A
Mangos are distantly related to the cashew and the pistachio
More mangos are eaten every day than any other fruit in the whole world
Mango trees can grow as tall as 100 feet
It is believed that Buddha meditated under a mango tree