Hello, and welcome back! Despite the soggy start to it, I think summer might actually be here--temps in the low nineties for the week. And here I was hoping for a few more weeks of actual spring weather, minus rain every other day. Oh well. At least my TBR pile is still tall enough to provide entertainment while I sit inside in the a/c this week.

First up is Betina Krahn's

The Wife Test (Berkley). Chloe of Guibray wants to know who her family is, so she arranges to go with a small group of nuns to England--ladies sent to pay off a debt to the king, owed by the Earl of Norwich. Sir Hugh of Sennet has devoted himself to the church, but Chloe is tempting. Too tempting, especially once she begins a "wife test" so that the king may decide which lady weds which man. Cute idea, lots of history, but I didn't love it. Then again, I didn't hate it either. Of Cupid's five arrows, I'm borrowing three for it.


Next up is Susan Johnson's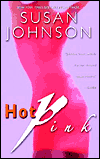 Hot Pink (Berkley). Chloe Chisolm's weekend wasn't off to such a hot start with the dud her friend fixed her up with, but the guy who got in the elevator on her way out is something else. Rocco Vinelli is tall, dark, and handsome, not to mention sexy as hell, and when her car won't start, he gives her a ride home--and much more. Ms. Johnson is well-known for her erotic romances. This has its erotic moments, but I wasn't convinced of the romance end of it. I think it more likely these two just have a serious case of lust. Nonetheless, it was a fun read, even if I wanted to shake some sense into Rocco more than once. Okay, more than a few times. I'm giving it three arrows as well.


Finally is Marliss Moon's

By Starlight (Berkley). Merry Duboise is about to die by fire when Sir Luke le Noir comes to her rescue. He only wants to save someone he feels is being wronged. Merry has gotten into her wretched situation because of her healing--and poisoning--skills, and is used to being called a witch by now. Luke tries to deliver her to her family, but it's too dangerous for her and for them, so he's stuck with taking her to one of her sisters married to a formidable knight, because Luke has business with the prince--and a waiting fiancee. Now this was a book I could sink my teeth into. Great historical additions that made the story seem real, yet didn't overpower the romance, which is in turns sweet and steamy. This one earns four arrows.


I want to say congratulations to Eve, who won our latest book giveaway, and remind all of you to keep your eye on the forum--you never know when there might be another. Also, don't forget about the sweepstakes--you can find the link on the main romance page. And until next time, happy reading!