Hello, and welcome back! I hope you´re all recovering from the long holiday weekend without any serious indigestion. And that you had time to indulge in at least one or two romances. I managed to fit in three among all the holiday cooking and family stresses last week, and hope to fit in at least another three this coming week to share with you all next week. So let´s begin.
First of all is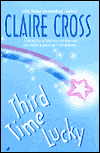 Third Time Lucky by Claire Cross, aka Delacroix (Jove). Let me preface this by saying I´ve read and enjoyed all the rest of Ms. Cross/Delacroix´s books, including those set in the present as this one is. However, this is the first that I recall told (mostly) in the first person, and for some reason, that pulls me right out of the story--with few exceptions--but that´s not the only problem I had with this tale about Phillipa Coxwell and Nick Sullivan, teenage buddies who now want to be more. There are big sections of this book where nothing is happening, which drove me crazy. I have no problem with backstory or internal monologues--in moderation--but there are way too many here for me. I´m looking forward to Ms. Cross going back to third person, though it won´t be in the next book, which is a spin-off of this one. This one´s only earned two and a half of Cupid´s five arrows.


The second book I read this week is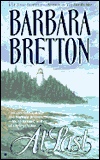 At Last by Barbara Bretton (Berkley). The premise sounded wonderful when I saw it--childhood friends turned lovers run into each other many years later and try to rekindle their romance. Plus it´s set in Maine, one of my favorite places in the world. But the whole first half of the book is backstory--necessary, but not much romance. Once the present story between Gracie Taylor and Noah Chase got going in the second half, I liked the book better. I wanted very much to like this story, but with the unfortunate first half, my opinion was pretty well made. This one also gets only two and a half arrows.


Finally, I read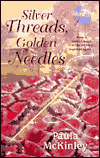 Silver Threads, Golden Needles by Paula McKinley (Jove Magical Love). Finally, a story I could sink my teeth into! Lynn Powell finds herself in a difficult position when the brother of a woman she´s hiding comes around. And to her horror, Grant Major, the worried brother, unwittingly endangers her life by bringing the one person from her past that Lynn least wants to see. Much of their story is told while they´re on the run, and Grant is believable as a man who wants to help heal the woman he comes to love. But Lynn´s wounds run deep. Can a magical needle and a few ghosts help them out? A truly touching story. I´m giving this one four arrows.


Until next week, happy reading!