Hello and welcome back! I hope you´re all snuggled up in a warm place with some great romances to keep you company. I´m in the midst of packing to leave for the Romantic Times convention and am hoping to get to meet some of you there.
In the meantime, I´ve got three new romances for you this week, including a new anthology. We´ve got a discussion and poll started in the forum on this topic right now. How do you feel about anthologies? Love them, hate them?

First up is

Once Upon a Dream (Jove) with novellas by Nora Roberts, Jill Gregory, Ruth Ryan Langan and Marianne Willman. The opening story "In Dreams," has Kayleen Brennan on vacation in Ireland when she encounters a man who´s been dreaming of her for a long time. But her visit must be fleeting, according to the rules Flynn lives by. How can their love survive being so limited? Ms. Roberts does a wonderful job with this tale. Next is "The Sorcerer´s Daughter," with Willow of Brinhaven setting out to find a necklace to satisfy the sorceress who´s imprisoned Willow´s father. But her father´s attempt to help brings Blaine of Kendrick, whose plans for the necklace differ from hers. I liked this, though not as well as the first. The next tale is "The Enchantment." Annie Tyler is thrilled when she gets a call from a friend of her mother, asking Annie to look at a house to list with her agency. An unexpected storm traps Annie and the woman´s son for the evening, and sparks fly from there with a little ghostly help. I wasn´t wild about this, because some things Annie does make little sense to me. Last is "The Bridge of Sighs," with Claire Johnston returning to Venice and meeting up with her ex-husband as well as a young girl in recurring dreams. This is great. I´m giving this anthology four of Cupid´s five arrows.


Next up is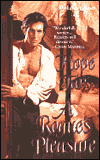 A Rogue's Pleasure by Hope Tarr (Jove Seduction). This is the second book in the Seduction series, and I liked it much better than the first. Chelsea Bellamy has taken up robbery to raise a ransom for her brother´s kidnapper. Her biggest mistake lies in her attempt to rob one victim a second time. Anthony Grenville is most curious about the lady thief, and then determined to make her his own, despite a fiancee. Very sexy, and a wonderful story. This one gets four arrows also.


Last is "White Mist" by Jaclyn Reding (Signet). Eleanor Wycliffe is on the run from her past and takes a job as a governess on a remote Scottish isle, calling herself Nell Harte. She doesn´t expect to find love with her employer, Gabriel MacFeagh, a man whose own past keeps him distant, even from his own daughter. These two lost souls find their way to love with a very touching story. Cupid´s lent four arrows for this one, too.


Till next week, happy reading!