Hello, and welcome back! I hope you´ve all got lots of reading done this week. I read way more than I can cover here today, but I´m going to try to cram in as much as possible.
First up is Brenda Joyce´s latest

House of Dreams (St. Martins). Wow! A sexy hero, a strong heroine, and a vindictive ghost. What more can any paranormal fan ask for? Cassandra de Warenne is raising her niece while her sister Tracy leads a jet-setting life. But when she brings home her latest trophy boyfriend, Antonio de la Barca, she sets some things in motion that no one can control. Though she tries very hard not to, Cass falls for Antonio while they search his family home for hints of what happened there in the past, to Isabel de Warenne. I won´t spoil the book for you, though. You´ll have to read it to get the rest of the story. This one´s getting four and a half of Cupid´s arrows. Definitely a keeper!


The second book this week is "His Expectant Neighbor" by Susan Meier (Silhouette Romance). This is part of their Storkville, USA series, and features Gwen Parker, seven-months pregnant and Storkville´s newest resident, and Ben Crowe, her landlord and self-appointed guardian angel. Between the two of them with their messed up pasts and a young boy in foster care, they forge a family bond. Except neither Gwen nor Ben thinks that´s what they want now. But hearts seldom listen to common sense, and this pair finds themselves inextricably bound together. Very sweet romance, earning three and a half of Cupid´s five arrows.


Next up is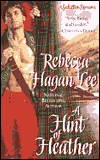 Hint of Heather by Rebecca Hagan Lee (Jove Seduction). Neil Claremont, Earl of Derrowford, is in Scotland on a mission, to complete the building of a fort. Jessalyn MacInnes, the MacInnes laird since her father´s death, has her own mission: find a husband to help her clan. Neil is her unlikely choice, but this pair strikes sparks off one another that could burn down the keep. Though Neil has no intention of staying, and Jess has no intention of falling for her new husband, both plans are led astray, by their emotions and by fate. A charming tale, and the first of the new hero-driven Seduction line. This one gets three arrows.


Finally, J.D. Robb´s

Judgment in Death (Berkley). Though I still haven´t gotten around to reading all the books in the series from the beginning, I admit to liking this one way better than the last. The romance between Eve and Roark is much more evident in this one. This time out, Eve is trying to find a cop-killer, and manages to endanger herself in the process by pointing the finger at one of Roark´s old "business" associates. As I said, better romance, but I figured out whodunit about halfway in. Still, I´m giving this one four of Cupid´s arrows for the yummy romance.