Hello, and welcome back. I hope you´ve gotten lots of reading and writing done this last week. Though I got lots of reading done, I didn´t do quite so well on the writing end. But I´ve resolved to do better this week.
In the meantime, I want to tell you about the great stuff I´ve read since last week. The first book, as you probably guessed is the second in May McGoldrick´s Highland Treasure Trilogy,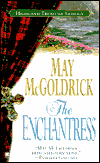 Enchantress, Vol. 2. This installment features Laura Percy, sister of Catherine--who found her love in "The Dreamer" (Onyx). Laura´s got a bit of a problem--since fleeing into Scotland, she´s been taken prisoner by the Sinclairs, and she goes from being captured by them to being taken by William Ross, Laird of Blackfearn, and a man she finds herself attracted to. But William still mourns his lost wife Mildred, though he cannot help the way he is drawn to Laura, who cares for his orphaned niece so sweetly and kisses William as if they were made for each other. May McGoldrick´s books are so well-written, with such honest and realistic characters. And with an excerpt at the end, hinting at Adrianne´s story, I can´t wait for the third book, "The Firebrand." In the meantime, though, Laura and William´s story has earned four of Cupid´s arrows. Definitely a keeper.


Next up is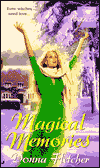 Magical Memories by Donna Fletcher (Jove Magical Love). In this tale, Tempest is a many-hundreds of years old witch, one of the most powerful in the world. Returning home from her sister´s wedding, Tempest has an accident in a snowstorm--hitting Michael Deeds. Possessed of a bad temper and a backpack holding all his belongings, Michael is also the reincarnation of the man Tempest once loved, Marcus, a very powerful warlock whom Tempest banished a long time ago in hopes that he would learn the most important lessons in life. Except Michael doesn´t remember Marcus right away. And Marcus still hasn´t learned his lessons. This one earns three of Cupid´s arrows. Though I liked the idea and many of the secondary characters, Michael wasn´t my favorite hero.


Finally, Lisa Jackson´s

Dark Sapphire, Vol. 3 (Signet) is the third book I read this week. Fleeing from those who´ve accused her of murdering her new husband, Sheena´s stowed away on Keegan´s ship. After his crew discovers her, she´s in a bit of trouble. The pair have met before, a long time ago, but neither remembers it immediately, and the same sparks still fly between them. And when he finds out who she really is, then there´s big trouble. While this story was pleasant enough, it isn´t a keeper for me, though it´s nothing I can put my finger on. This one earns two and a half of Cupid´s arrows.

Until next week, happy reading and writing!