Welcome back! Hope you´ve been busy reading this week. Or writing. I had plenty of time to read now that some household things are out of the way, and have more new books waiting downstairs for me as we speak. All the books I´ve read are available now for your reading pleasure.
The first book I read this week was

China Bride by Mary Jo Putney (Ballantine). This book opens with Troth Montgomery, Lady Maxwell meeting her brother-in-law and his wife to tell them of her husband´s presumed death, then alternates between present and past. Troth is also known as Jin Kang and Mei-Lian, depending on her circumstances. Daughter of a Scotsman and his Chinese bride, she is left alone at a young age and raised by a friend of her father´s to be a male spy. It is in this persona of Jin Kang that she meets Kyle Renbourne, Viscount Maxwell. Kyle believes he cannot love again after losing his first love, and Troth believes she is unlovable. They both learn otherwise as they journey to fobidden places, and then onward separately until they can be together again. These are endearing characters who will stay with you long after you finish the book. I had to sit up late one night to read the last few chapters, and I wasn´t disappointed. And for fans of Ms. Putney, there are characters here from previous books, too. Of Cupid´s five arrows, this one´s earned four. Now I have to track down the other related books!

I also read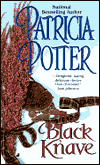 Black Knave by Patricia Potter (Jove). Here we have the new Marquis of Braemoor, Rory Forbes, wed to Bethia MacDonnell, a most unwilling bride. Unbeknownst to Bethia, her new husband is also the Black Knave, the man she seeks to help free her young brother. There were points of this story that I truly didn´t like--Rory says some really hateful things to her in his efforts to keep her from getting too close to him, and I had a very difficult time forgiving that and believing in their story--but there were other, touching moments, too. This one gets only three of Cupid´s arrows.

The final book this week is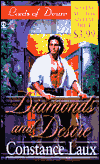 Diamonds and Desire by Constance Laux (Signet). Take one tabloid journalist and set her loose on the trail of a well-known thief, the Shadow, and on the hunt for King Arthur´s Crown. Aggie O´Day believes she knows the identity of the Shadow, one Stewart Marsh. If you have any idea of the persistence (and that´s a kind word, I think) of today´s tabloid reporters, then you have an excellent idea of Aggie´s make-up. She didn´t endear herself to me at all, I´m afraid, and neither did Stewart, lying to her all the way through the story and then leaving her to chase after him. This one earns only two of Cupid´s arrows, I´m sad to say.

Until next week, happy reading!