Welcome back! I hope youīve all been reading this week. There are so many wonderful new books available, and more all the time, Iīll never be caught up.
This week Iīve read two new books to share with you, and both are currently available.

The first is an anthology,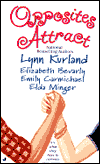 Opposites Attract (Jove). The title tells the whole premise behind these tales. The first novella, "The Icing on the Cake" by Lynn Kurland is about a writer/chef whoīs fled to Alaska to work, far away from his well-meaning but not-very-understanding family. The only trouble is that the owner of the house heīs rented for the fall has returned and is none too happy to have him around. Can a rich, artistic city boy and a capable, inexperienced backwoods woman get along for just a few months? Well, they get along rather nicely once they realize how they feel about each other. Very heavy on the heroīs point of view.

The second story, "The Short, Hot Summer" is from Elizabeth Bevarly, and is hot only in the sense of the summer weather in Alabama where another city boy meets his match in a small town girl. Itīs lust at first sight. In this one, I wasnīt quite sure at the end that theyīd be together forever.

The third story is "Pride and Prejudice" by Emily Carmichael, pitting a slick cartoonist with a pretty little show dog against a country boy who thinks his collie ought to be more useful. Except for the dogsī points of view, this was a cute story. Sorry, I just have a problem with animals having human thoughts.

The final story in the group is "The Princess and the Adventurer" by Elda Minger. Hands down, my favorite in the book. This one has an inexperienced woman searching for her brother in the jungle with a man who wants only to strike it rich and retire to an island. And itīs a great story--hot sex, truly likeable characters, and the happiest ending of all. Iīm using three and a half of Cupidīs arrows for this anthology, mostly for the last two stories.


The second book I read this week is "Merely Magic" by Patricia Rice (Signet). Take one loner of an earl, a healer from a nearby village, a curse on the joining of their families, and shake well. Ninian Malcolm and Drogo Ives are not meant to be together. Not if their families can help it, anyway. But the fates have other ideas, and from their meeting in a midnight forest, Ninian and Drogo feel a pull to be together. Except Drogo refuses to believe in Ninianīs gifts. Big problem, and heīs especially stubborn about it. This charming historical had me rooting for them to repair their differences and live happily ever after. Cupidīs lent me three and a half arrows for this one as well.

Happy reading!