Ah, the bliss of a good book. The hunky hero. The beautiful heroine. The happily ever after ending. I can tell how good a book is by what I miss going on around me--the sound of the TV, the telephone ringing, the boys playing cars. If I can lose myself in a book when all the interruptions of real life are around me, it´s a good book.
Ideally, you´d be able to sit somewhere quiet with your book, unbothered by anything or anyone. But we all know what life is like, right? Dinner´s on, the UPS guy is at the door,...I could go on, but I won´t. I know you all know. So how do you get to read? I generally have to take my reading time where I can find it, a few minutes here, a few there, and if you have a family, you know there´s no peace and quiet. And if there is, everyone must be sleeping.


Well, during the past week, I managed to fit in two new books, both historicals. The first is

Courtship by Catherine Coulter (Jove). Helen Mayberry and Spenser Heatherington, Lord Beecham, are both secondary characters from previous novels of Ms. Coulter´s and this is their story. Sight unseen, spinster Helen has decided that she must have Spenser as her partner in the search for a magic lamp, a la Aladdin. Rake Spenser sees Helen and knows he must have her in his bed. Before you know it, they´re in bed, over and over. Here´s one guy who doesn´t need Viagra. Add in Helen´s eccentric father, various household staffs, a murder, a presumed dead husband, and other people looking for the lamp, and you have an amusing read. It wasn´t, however, enough to distract me from everything going on around me. This one earns only two of Cupid´s five arrows.


The second book this week is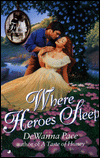 Where Heroes Sleep by DeWanna Pace (Jove). Childhood friends Kenzy Dixon and Rose Whitaker were both ´in love´ with Noble Stockton when they were younger. Then Kenzy´s family left the small Texas town. When she returns ten years later, Kenzy has some secrets she hides from those who care about her. Rose, who´s still in love with Noble, thinks she must sacrifice her love for her friend, and tries to push the pair together. Gypsy Rembrandt Parker has also returned to a town that doesn´t want him after the Civil War. Try as they might, Kenzy and Rem find themselves falling for each other, but both keep their secrets to themselves. In the process of helping each other, they learn how to help themselves as well. I really enjoyed this story, and feel this one deserves three of Cupid´s arrows.

Until next time, happy reading.