It is the end of the school year and for so many parents it is a time to start thinking about giving something special to say "thank you" to your child's teacher. It's always nice to show your appreciation to a teacher that has had a positive influence in your child's growing, and dedicated teachers just love to know that they are valued and held in high esteem.

When my two children were at school, I worked as a teacher aide and saw both sides of the gift giving dynamic. Most parents gave a great deal of thought to their gift and most teachers were grateful to receive a gift, but generally speaking the teacher would simply love to receive a written thank you from the student and the parents, and that's all.

Teachers don't look for a present as such, just assurance that their parents and students are grateful for all the late nights and early mornings spent preparing the learning journey for their scholars, throughout the whole year.
One of the best presents I gave to a much liked teacher was when I arranged for a $20.00 credit at the school canteen in the name of the teacher. She was always rummaging through her bag for change when she forgot to take her lunch and she was really grateful for that favor.

Several other times, I made a quickie lap quilt with all the first names of the current class students. These quilts were quick and easy to make and were gratefully received by the teachers and used either at their home or in the classroom.

To that end, I've designed this very simple lap quilt for you to make. It's made up of 4˝" blocks, with three rectangles in each block, measuring 4˝" x 1˝" each. The one plain rectangle in the centre is there to write the child's name, and is surrounded by the other two patterned fabric rectangles.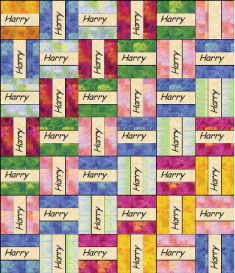 Make these name blocks up until you have enough to make a lap quilt. Place the units as shown and sew together and quilt and bind. Pretty simple, but a lovely Thankyou for your special teacher.

Cutting Instructions for a quilt measuring 27" x 31˝" and consisting of 42 blocks with a space to place one name per block.
Cut forty-two 1˝" x 4˝" rectangles from plain coloured fabric

Cut two 1˝" x 4˝ rectangles in patterned fabrics (you can choose to make scrappy blocks or select a few patterned fabrics and repeat them as shown).

Sew a patterned rectangle to either side of the plain coloured fabric to make one block.

Make 42 blocks the same

Using a permanent marker, write the students first name onto each of the plain rectangles as shown.

Sew the rows together, 6 blocks across and 7 blocks down.

Quilt and Bind as desired.

Don't forget to put a label on the quilt.