I had the extreme pleasure of attending the first exhibition by the Australian Machine Quilters Association here in Queensland Australia,recently. What a fabulous array of quilts on display. Quilts from all sorts of genres were hanging on display. Pieced, appliquéd, whole quilts, wall hangings and many more different genres, but these quilts were being judged on their quilting alone.
It's about time that machine quilters (long arm quilters) are receiving the credit they so very much deserve for the wonderful finishes they put to other people's quilts. Sure they get paid, but the work is simply outstanding (in most cases) and really adds to the pieced quilt.
According to the website of the Australian Machine Quilters Association, long arm quilting commenced here in Australia in the early 1990's, although in America, Long Arm quilting machines were first invented in the late 1800's.
Gradually over the past 15 years or so, professional machine quilters have been making their mark, not only offering a service to the quilter who doesn't wish to quilt her own quilt top, but offering the opportunity to enhance another's quilt in such a way that it doubles the wonderment of the creation, and incidentally also increases the value of the quilt on completion.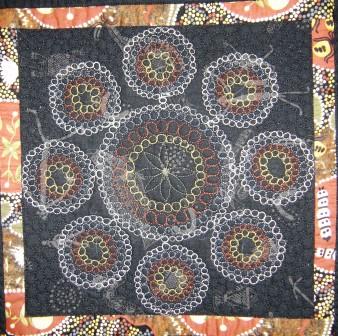 I've been entering judged quilt shows for sometime now, and have always been conscious that my quilt (when it's been quilted by a professional quilter) hangs in the exhibition displaying EQUALLY the efforts of me the fabric piecer and designer, and those wonderful creative skills of the professional quilter. Although, there has never been a requirement (until recently) to recognize the efforts of the quilter. With the introduction to the amendments of the Copyright Act of 2000, (and other copyright laws throughout the world), it is now essential that all contributors to the quilt be attributed on the quilt label, and this of course includes the quilter.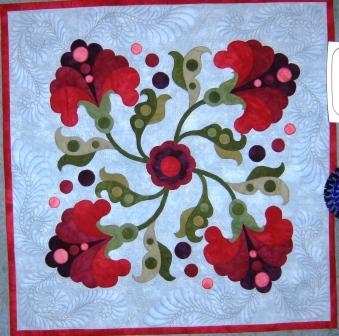 I am keen to see quilt shows include in their categories, judged sections for professional long arm quilters, and have them recognized with prizes of equal value to those of quiltmakers. Even better, what about including a mini exhibition within the big state quilt shows, showcasing the extraordinary talents of professional quilters? I'm sure that these two entities – the quilt maker and the machine quilter can work hand in hand to further the profile of quilts all over the world.
I've included in this article several snap shots I took as I absorbed the wonderful creations on display. These are not professional shots by any means, and they are mostly of parts of quilts that interested me.
If you'd like to see the winner of the show, see below for the links to the AMQA's blog and website.
AMQA Website
AMQA Blog