Project Information: • Skill level: Basic • CorelR JascR Paint ShopTM ProR 7 • General tips

In this tutorial you will use Paint Shop Pro 7 to make a small 100 by 100 pixels image that is meant to be used as a seamless tiled background for a web page. When tiled over the web page it will look like geometric stationary paper. Click on the image below to view as a tiled background.




Step 1. Open the Paint Shop Pro program. We will start with a white, 100 by 100 pixels image. On the Menu Bar, click File > New to open the New Image dialog box. Set the following values in this box. (See Figure 1)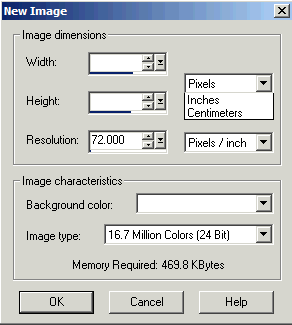 Figure 1. New Image Dialog Box

Width: 100 pixels
Heigh: 100 pixlels
Resolution: 72 pixels per inch
Background color: White
Image type: 16 Million Colors

Step 2. Add a little color. Now you will spray the image with some colored dots using the Add Noise Filter. On the Menu Bar, click Effects > Noise > Add to open the Add Noise dialog box. Set the Percent of Noise to 100% and choose the Uniform pattern.

Step 3. Add some texture. You will now add texture using the Fur Texture Effect. To do this click on Effects > Texture Effects > Fur and set the following values in the Fur dialog box. (See Figure 2)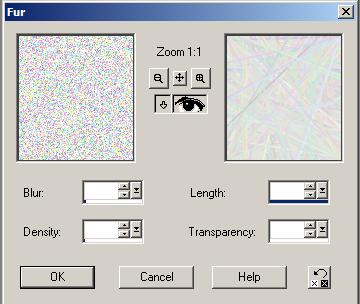 Figure 2. Fur Dialog Box

Blur: 5
Density: 5
Length: 100
Transparency: 0

You will now create the seamless pattern. This is created by placing four copies of your image next to each other inside a 200 by 200 pixels image box.

Step 4. Repeat Step 1 to create a new image window 200 by 200 pixels.


Mover Tool
Step 5. Copy and paste the first of four. Click on the first/smaller image to make this the active window. Click Edit > Copy. Now go back to the second/larger image and click Edit > Paste > As New Selection. Click on the Mover tool icon. Click and drag this copy to the upper right corner of this image window. Click Selections > Select None. (See Figure 3)


Figure 3.

Next →



JascR material used by permission of Jasc Software, Inc. Copyright ©1997-2000 Jasc Software, Inc. All Rights Reserved. Paint Shop Pro, Animation Shop, Paint Shop Photo Album, Paint Shop Pro Studio and Jasc are registered trademarks of Jasc Software, Inc.