Ah, spring. You think you can get outside to do your yardwork, and then you remember: in spring, it rains. A lot. So you go back inside. What can you do? How about curling up with a new romance? Iīve read three this week and will share my thoughts on them with you.

First of, we have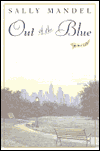 Out of the Blue by Sally Mandel (Ballantine). I have seen this marketed as a romance, but I have to admit, it read more like mainstream fiction to me. There is romance in it--between Anna Bolles, who suffers from MS, and Joe Malone, who falls for her hard and fast--but there is an equal amount on the relationship between Anna and her mother Norma, whoīs cared for her since her diagnosis five years ago. Even the resolution of the story spent more time on that relationship than between Anna and Joeīs. It was a good book--held my attention for the course of an evening--but I wouldnīt call it a true romance. On the romance scale, of Cupidīs five arrows, this one gets a two.


Next up is

Dove's Way by Linda Francis Lee (Ivy Books). This is the story of two misfits who find each other not once but twice in the world. Matthew Hawthorne is a damaged man, both physically and mentally scarred. After a scandal rocked his life, he ran away from proper Boston to the wilds of Africa. Finnea Winslet has lived there most of her life and is now on her way to Boston, to her remaining family. Both have secrets too painful to share, but they find themselves drawn to each other anyway. This was an interesting story, full of angst and plenty of family drama. I had a hard time identifying with Finnea, though. She seemed a bit wishy-washy to me. After sharing far more intimate things with Matthew, I couldnīt believe she wouldnīt tell him her deep dark secret. Of Cupidīs five arrows, this one gets three.


Lastly, we have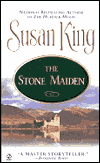 Stone Maiden by Susan King (Signet). Alainna MacLaren is the head of her clan, their last chance to triumph over their enemies, the clan MacNechtan. Sebastien le Bret is a knight who plans to return home to France, to find his son and begin his life anew. King William has other plans for both of them. With my love of all things Scottish, of course I liked this book. Amid many trials and their own pride and private plans, this pair works hard to earn their happy ending. This one earns three and a half of Cupidīs five arrows.

Let me know what you think of these books. Send me an email, or post to the new forum.