Here's a greeting card that uses an ATC or artist trading card as its focal point. This example is meant for Valentine's Day, but you can easily adapt this project for another occasion: simply use an ATC with another theme, and change the text paper to patterned paper in a matching color. It should be easy to come up with an ATC for Easter, Halloween, Christmas and similar occasions. For a birthday card, you can use a cupcake as the subject of the ATC, or maybe flowers, birds, or something Paris-inspired. For a graduation, farewell or retirement card, a travel-themed ATC works well. When creating a card for a specific recipient, think of the person's favorite hobby or food and make a card based on that. ATCs that celebrate sewing, cooking, or gardening, or that feature tea, coffee, or ice cream are sure to bring a smile to the recipient's face, while a card showcasing his or her photo – or that of a favorite pet – is sure to be an instant hit!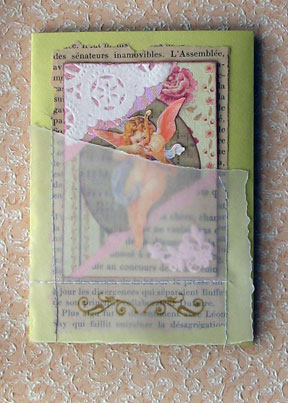 You will need:
* A finished Artist Trading Card (ATC)
* Colored cardstock measuring 11 by 5 inches
* Page from old book torn to a rectangle measuring 4-1/2 by 2-3/4 inches
* Vellum torn to a rectangle measuring 3-3/4 by 3-1/2 inches
* Flourish rubber stamp
* Stamp pad
* Glue stick
* Double-sided tape
* Sewing machine, or sewing needle and embroidery floss
* Scissors
* Ruler
* Pencil
* Craft knife
* Cutting mat
Measure and cut the cardstock to the indicated size. Score the cardstock into three equal panels. Fold the leftmost panel over the middle panel; this is needed to cover the stitching that will be done later. Now fold these two panels over the third panel.
Tear the book page to the size indicated and glue it to the center panel (which is now the front of the card), leaving a border around the edges.
Tear the vellum to the indicated size, and then tear off one corner. With the cardstock unfolded, put the vellum on top of the text paper, aligning the bottom and sides of the vellum with the bottom and sides of the panel. Take the ATC and position it on top the vellum. Using a pencil, lightly mark the lines where the pocket will be sewn; the pocket should be wider than the ATC by about 1/8 of inch on both sides. Remove the ATC and then sew along the lines using a straight stitch. (Note: if you're using a sewing machine, use a long stitch so that the paper doesn't tear). Trim off any loose threads. Stamp a flourish at the bottom of the vellum and allow it to dry.
Now fold the card again, and using double sided tape, adhere the leftmost panel to the back of the center panel to hide the stitching. Slip the ATC into the pocket.