Germany's Ruhr Valley, the
Ruhrgebiet
, also known as
Kohlpott
, (coal mine), has 750 years of industrial history and a former image of smoking furnaces, polluted rivers and slag heaps. Lying in
Nord Rhein Westphalia
, a North Western region of the country, it encompasses everything from medieval castles, palaces, green oasis, and highlands, to the volcanic
Eifel
region and beauty surrounding the lower River Rhine.
However a metamorphosis has taken place in a Ruhr Valley in the process of transforming its "raison d'etre" from coal to culture, because although enough industry was retained to remain Europe's largest economic area, the region's mining and much of its heavy industries collapsed.
Abandoned industrial sites, mines and steel works have been redeveloped to house culture, from the arts, entertainment and education to artificial lakes, as well as providing homes, stores and offices. While the environmentally damaged and scarred countryside and woodland is being reclaimed and returned to nature.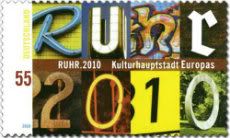 The annual
European Capital of Culture
title is usually awarded to a city which arranges a program of events connected to the culture of Europe; however one year, 2010, instead of a single city the European Union Council of Ministers uniquely selected an entire area, the rejuvenated Ruhr metropolis with its 53 towns and cities.
And
Change Through Culture, Culture Through Change
became its motto.
An idealistic concept, initially titled
European City of Culture
, it was conceived in 1985 by the late Greek singer and actress Melina Mercouri, then Minister of Culture for Greece, together with her French equivalent Jack Lang, in an airport lounge. They hoped that, within the framework of cultural policy of the European Union, the scheme would contribute towards bringing Europeans together by emphasizing the range and brilliance of their cultures, as well as mutual values and history.
The Ruhr's time in the spotlight began in a January snow storm, with over 2,500 cultural and artistic activities, events and projects, included a
Wonders of the Solar System
exhibition, in what in a previous life had been a gas tank.
Decommissioned in 1988 the Gasometer is an exhibition hall and anchor point of the 'Route of industrial culture', one of Germany's tourist routes, as well as part of the European Route of Industrial Heritage, and it links the regions most important and attractive industrial monuments.
One is the Essen
Zeche Zollverein
, known as the most beautiful colliery in the world until closing in 1986 and a
UNESCO World Heritage Site
since 2001, it was a "Bauhaus" inspired coal mine, a German design concept combining art and technology with craft, and is one of the Ruhrgebiet's regenerated industrial sites.
Now it is a world renowned design center, art gallery,
exhibition and concert halls, the former coke oven is a summer swimming pool, in winter the pressure machine platform is frozen into an ice skating rink, while the old coal wash plant is home to the new three level
Ruhr Museum
, with museums ranging from natural history to archaeological and historical.
Mine shafts and coal faces, where miners worked in dangerous unhealthy conditions, now echo to the sound of art and culture enthusiasts.
A major project and symbol of European co-operation was opened by its joint patrons,
Angela Merkel
the Chancellor of Germany and
Nicolas Sarkozy
at the time President of France, during the Ruhr Capital of Culture year.
The very first modern European metropolis was Paris in the second half of the nineteenth century and
Images of a Capital - The Impressionists in Paris
, was an art exhibition held in Essen's new Euro 55 million Museum Folkwang, which had been funded entirely by the
Alfried Krupp von Bohlen und Halbach Foundation
.
In much the same way the face of the Ruhr continues to be revitalized, Paris had gone through a similar transformation after 1850. Industrial sites were moved to the edge of the city and with its newly constructed buildings, railway stations, boulevards, bridges and squares
Paris
became the capital of the modern world.
So this was a symbolic exhibition. Paris's era of change had helped inspire the innovative artistic painting techniques of the
Impressionists
, a development which succeeded in capturing and communicating character and atmosphere, forming "impressions" of a scene rather than a painted record on canvas, and masterpieces by Renoir, Monet, Degas, Manet, Caillebotte and
Pissarro were included.
Change through Culture, Culture through Change
.
The Ruhr region. High-tech instead of blast furnaces and an academic center dubbed
Helicon Valley
, multifaceted cultural life: theaters, museums, art galleries, festivals, international fairs and concerts from classic to cult.
It is a European Metropolis of the 21st century and a visual testament to the Ruhrgebiet's successful regeneration, the cooperation between its cities together with their ability and continuing willingness to change.
Special European Culture Capital 2010 edition Deutsche Post postage stamp, designed by Stefan Klein and Olaf Neuman, Winter Skating at Zeche Zollverein Coking Plant, Essen, by Rainer Halama, via de.Wikipedia
Gustave Caillebotte: 'Le pont de l'Europe', The Europe Bridge, 1876, The Association des Amis du Petit Palais, Geneva, Foto: Studio Monique Bernaz, Geneva
For topics in the news

And you can follow German Culture on Facebook