Amy Carmichael (1867-1951) is remembered for many reasons not only by the people of India where she lived a greater part of her life but also world over. Even in this century Amy Carmichael lives through the many books she has authored over her lifetime. Most of her writings stay fresh and her forceful expressions have not diminished through the passage of time.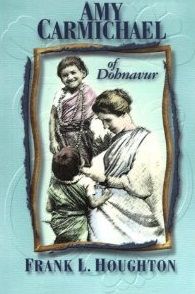 Though Amy Carmichael always resented any reference to herself, her life of sterling character is one that is worth reading about for anyone, especially Christian believers. Only because many have realized this, different versions of Amy Carmichael's biography have been published.
The work by Bishop Frank Houghton is an exhaustive account of the life and works of Amy Carmichael. Bishop Houghton skillfully presents huge chunks of information that begins with Amy Carmichael's family; her formative years in Ireland and goes on to cover her call to missions and pursuits in serving God.
Many sections of the book are excerpts from Amy Carmichael's original works as Bishop Houghton believes that the text would lose intensity if penned otherwise. This is one distinct feature of the book that makes readers get acquainted with Amy Carmichael's passion for the Lord whom she served and His children. Another benefit of such an approach is that the reader gets acquainted with most of Amy Carmichael's books and writings. After reading this volume, readers will no doubt desire to read more of Amy Carmichael's writings.
Poems and songs composed by Amy Carmichael have also been included in the biography. Each chapter begins with an appropriate poem either authored by Amy Carmichael or others.
Bishop Houghton has captured the eventful life of Amy Carmichael in three sections. The first of these titled
Preparation for a Life-Work
captures Amy's early years in Ireland, the influence of her family, her faith journey, her ministry among the 'shawlies' and the changes in the family fortune, Amy's call to missions, her first experiences as a missionary in Japan, her brief stint in Ceylon and her life mission that began in South India.
The second section of the book,
The Warfare of the Service
is a complete record of Amy Carmichael's mission work in Dohnavur, India. Beginning with the first temple child rescued by Amy Carmichael, this section walks the reader through the lives of the many children snatched from the perils of temple prostitution through the perseverant efforts of Amy Carmichael and her group of faithful followers. In this section and through the rest of the book, Amy Carmichael becomes 'Amma' meaning 'mother' to the many children she rescues.
The final section of the book called
The Keeping of the Charge
spans over the years when Amy Carmichael, confined to bed as a result of an incapacitating accident learnt to know her Saviour
through the fellowship of suffering
. Pain and immobility did not dampen Amy Carmichael who continued to be ablaze for the Lord whom she loved and her children whom God had given her. Many of Amy Carmichael's best selling volumes were written only during her years of confinement in a solitary room.
Besides vivid descriptions and stirring accounts, Bishop Houghton has included pictures of Amy Carmichael and her children along with a map of that time to help readers.
Amy Carmichael's life was in no way undemanding. Given her passion for God and His ministry it comes as no surprise that Amy Carmichael was always on the move, accomplishing feats for her God. As a result her life experiences can easily run through several volumes. In
Amy Carmichael of Dohnavur
, Bishop Houghton has tried to bring in almost all the elements of Amy Carmichael's life with the result that the volume can prove a little extensive to read through, demanding time and attention. Those wishing to have a quick look at Amy Carmichael's ministry might think of other authors. However anyone choosing
Amy Carmichael of Dohnavur
by Bishop Houghton will walk alongside Amy Carmichael and feel the intensity of her love and passion as she strived to build the Dohnavur fellowship.
Here's a link to buy a copy of
Amy Carmichael of Dohnavur
by Frank Houghton from Amazon.com
Buy 'Amy Carmichael of Dohnavur' by Frank Houghton from Amazon.com
Note: I reviewed my own copy of Amy Carmichael of Dohnavur by Frank Houghton and have received no monetary benefit for doing so.