Hello, and welcome back! I hope you´re all recovered from the long holiday weekend and things are getting back to normal, including your reading time. Particularly since there are an awful lot of romances hitting the shelves lately.
First up this week, I´d like to congratulate our winners in last week´s book giveaway. We gave away five copies of Lauren Bach´s "Lone Rider" (Warner) to Denise Meyers, Michele Bardsley, Danielle DeFrain, Leena Hyat and Eva Minaskanian. I hope you all enjoy the book, ladies. And the rest of you keep your eyes peeled--we may have another giveaway coming up in the next month or two, and wouldn´t you like a chance at a free book?

The first book I read this week is

Dearest Beloved by Christine Holden (Jove Love Letters). Arielle Stanford´s one wish is to be a physician. Hunter Braxton is known for making people´s wishes come true, so Arielle writes to him. Both have their secrets, though at first, when all he´s planning is to help her study medicine, that doesn´t matter. But Arielle´s father ´convinces´ Hunter that Arielle should be his bride. Will a stash of hidden love letters help this couple find their way to their own happy ending? It took me a while to get into this story, but I enjoyed the second half much better than the first. It´s earned three of Cupid´s five arrows.


Second, we have the first of the Highland Fling romances from Jove, by Elizabeth English,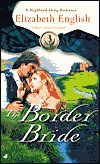 Border Bride. Alyson Bowden must carry out a difficult and distasteful task or risk her younger brother´s life: she must pretend to be her half-sister and wed Jeremy Kirallen to fulfill a bargain her father made. You all know I love Scottish romances, and this one features a Scotsman to die for, plus a heroine who´s more than a match for her man. I´m giving it three and a half arrows.


Finally this week we have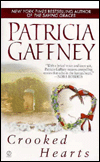 Crooked Hearts by Patricia Gaffney (Signet). This is a re-release of one of her older books, originally released under the Topaz line. Reuben Jones and Grace Russell are both con artists extraordinaire, and when their paths cross, sparks fly. Despite this being a re-release, this is a story readers everywhere will enjoy. The secondary characters only add to the depth and believability of this book, and I adored Reuben and Grace. This is definitely a couple you´ll want to cheer for. They´ve earned four arrows.

Until next week, happy reading!