Germany's cities, towns and villages take on a magical air during
Advent
. The traditional outdoor
Weihnachtsmaerkte
,
Christmas Markets
,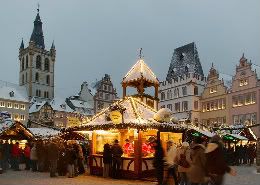 can be at the foot of a mountain, alongside a water fall, in a tiny village square, the middle of a city, or on boats moored in a harbor, and are invariably in centuries old historic settings that already possess a unique character throughout the year.
Nevertheless they are magically transformed by canopied wooden stalls and small wooden huts overflowing with genuine and age old crafts, an enchanted atmosphere and the aroma of
toasted sugared almonds
, hot chestnuts, bratwurst - grilled sausages, spicy gingerbread, cinnamon and
gluewein
.
Food and drink which fits to the chill winter air and, with or without the festive markets, embody the sight, smells and tastes of
Weihnachten
.
Tradition and nostalgia instead of "Kitsch".
An ancient custom that began when seasonal markets took place throughout the year, Dresden's
Striezelmarkt
, which started in 1434, is believed to have been the first of Germany's Christmas Markets. The name came from a creation made a few years later by the city's bakers,
Striezel
, Germany's traditional Christmas Cake now known as
Christstollen
, which just as hundreds of years ago is still shaped to symbolize the Christ child wrapped in swaddling clothes.
Throughout the country there are 2,500 Christmas markets that, as in the past when only tradesmen from the area could sell their wares at their local market, have remained faithful to their own individuality, regional specialties and products.
From the end of November until Christmas they are the quaint and festive gathering place for locals that they have been for centuries.
Illuminated stands draped with Christmas lights, spruce and pine branches, have rows, as well as beautifully arranged displays, of everything from handmade Christmas decorations, blown glass ornaments, wooden music boxes, crib figurines, candles and plum people made with prunes and walnuts,
Zwetschgenmaennla
, to spicy gingerbread and other traditional seasonal goodies, while candle makers, woodcarvers, glass blowers and other artisans demonstrate their skills.
A traditional, and sometimes living, nativity scene, together with Christmas music, ringing bells, carols and choirs, can turn a walk around a Weihnachtsmaerkte, or as they are sometimes named
Christkindlmaerkte
, into something approaching a stroll through a Christmas winter wonderland.
It was religious reformer Martin Luther who suggested that presents were to be received from the
Christ Child
at "Christmastime" instead of delivered on December 6th by Catholic saint
St. Nicholas
, as had been the custom until then. Subsequently especially in Southern Germany "Christkindlsmarkt",
Christ Child Market
, became a popular name for Christmas markets.
Usually beginning around the first day of Advent and remaining until 23rd December or Christmas Eve, Christmas markets open around 10 or 11am closing between 8 or 9pm, and day or night they embody the spirit and atmosphere of Christmas. At the same time regardless of size, their hundreds of thousands of visitors and their focus on business, they have not become "tourist traps" and there is something non-commercial about them.
In
Rothenburg ob der Tauber's Reiterlesmarkt
the Germanic god Wotan, who legend says rode horseback during to winter to distribute gifts to the poor, hands out presents to children together with St. Nicholas. While another town along the Romantic Road,
Dinkelsbuehl
, is one of several that hold their Christmas market behind city gates and within heavily fortified medieval city walls.
The cobble stoned streets of
Tuebingen
with its half timbered houses and streams that run through the town has a privately run market, where everything is "homemade", from baked, preserved and knitted goods to water colors, oil paintings and wood carvings.
The Christmas market in one of Europe's greatest cultural sites,
Weimar
, takes place where not only a lot of the worlds Christmas traditions originated, including the first public Christmas tree, but where many of today's popular Christmas carols were also inspired, while in
Munich
a favorite market is the
Kripperlmarkt
. There all the stalls are filled only with nativity themed figures, made from wood, terracotta or wax, of the baby
Jesus, Mary, Joseph, Three Kings, Shepherds
with flocks of sheep and other farm animals.
A village Weihnachtmaerkte
illuminated by lights, candles and lanterns and with idiosyncratic stalls, offer a completely different view of German Culture.
For just one or two days during Advent the local butcher offers his Braadwurst, perhaps a local charity the Gluehwein and hot chocolate, volunteers a raffle and everything from hand crafted Christmas cards and hand painted plant pot covers and door stops to Christmas ready flower bulbs, and jams, jellies and fruit schnapps - a spirit, made by charities, individuals or groups is for sale.
The annual village Weihnachtmarkt is a festive and communal meeting place where villagers and visitors meet, greet, buy and stay until deep in the night.
Visiting Christmas Markets during Advent has been a major
pre-Christmas activity in Germany since the 17th century, when a Nuremberg priest was already complaining in 1616 that there was no point in holding the Christmas Eve afternoon service because "
everyone was at the market
", and their charm casts more people under its spell each year.
Clusters of authentic German style Weihnachtsmarkt chalets, complete with stallholders from Germany or of German descent, are opening everywhere from England's Birmingham to Chicago in the USA.
Another piece of German Christmas history and tradition has begun its long journey world wide.
This is an absolutely beautiful book, and not only for children. 'Christmas Around the World: A Pop-Up Book' it of course includes Germany, is interactive and filled with background stories and information but also could qualify as a work of art. A book to treasure and bring out every year.
For young and old, to bring the atmosphere of a Frohliche Weihnachten both for those who have experienced one and those who would like to. Filled with Songs, many which would be heard sung at a Weihnachtsmarkt, Traditions and Stories, this German Book & Audio CD Edition has easy to follow translations throughout.