John F. Kennedy visited Germany in 1963 and announced
Ich bin ein Berliner
, "I am a Berliner", someone in solidarity with those living in separated Berlin. Although stories persist this was incorrect it was in fact linguistically accurate, however a
Berliner
is also the name for a jelly donut in much of Germany, although ironically not in the country's capital Berlin where they are called Pfannkuchen, and so it caused a more than a few smiles.
There are about 300 different varieties of
real
bread in Germany, with
thousands of genuine bakerís shops, so there is a life beyond "pumpernickel", and if you decide to try one variety a day it will take almost a year to get through them all.
However it would take even longer if you want to try every one of the specialty sausages Germany produces, over two and a half years, as there are more than 1,000 varieties, each with different flavorings, herbs, spice mixture, piquancy and texture.
One spice that sometimes is found in, or on, sausages is red Hungarian paprika, which is often sprinkled on everything from chips to fried eggs.
The
Garden Gnome
was "born" in Germany. In the 1800's they began to appear in Eastern areas, where a myth describing gnomes who helped in, and protected, gardens had been folklore for generations, and soon the garden gnome "species" was to be seen throughout Germany, spreading across Europe, crossing the channel to England and eventually around the world.
It isn't a "gnome" but instead a "Barbie" doll which has been made in the image of Germany's Chancellor Angela Merkel.
Hearths with open fires are much loved in Germany, even in apartments, and as fires mean chimneys with soot and other debris there are of course chimney sweeps. But these are traditional sweeps,
Schornsteinfeger
a,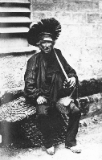 who look as if they have stepped back in time. With brushes carried over their shoulders, and from
chimney sweep
families that often reach back generations, they still wear the black suits with gold buttons and black top hats exactly as they were worn centuries ago.
The German nobility as a legally defined class was abolished on August 11, 1919, when Germans were made equal before the law, and the legal rights and privileges due to nobility ceased to exist. However titles of all types and levels of status abound and are invariably used, even amongst small children attending Kindergarten or school, while often the minor, and even not-so-minor, misdemeanors of those with an aristocratic heritage are looked upon in a more benign way than those who have not.
Germanyís oldest city is Trier which was established in 16 BC, and known as
the second Rome
because it was the home of Roman emperors including Constantine the Great and Valentinian I. Despite Trierís hot springs having been a feature of the land for centuries it was the Romans who first enjoyed and made use of them. They built therapeutic "Baths" used to cure arthritis and rheumatism which are still in use today, and they did this not only in Trier but, amongst other towns and cities, in
Baden-Baden
, literally "To Bathe-To Bathe" or "Baths-Baths".
Construction started on the
Cologne Cathedral
in 1248, when the city
was part of the Holy Roman Empire, but it took 632 years until the building was finally completed, to the original plans, in 1880. It was conceived to house a shrine, the large, decorated gold sarcophagus believed to contain the relicís of the
Three Wise Men
, the biblical Magi, Melchior, Balthazar and Casper. Holy Roman Emperor Fredrick Barbarossa had in 1164 given them to the then Archbishop of Cologne, having first removed them from Milan where they had been cared for since the 5th century.
Germans rightly have a reputation of being direct,
honest and to the point
as their way is called, which can be a little unnerving at times, but this does not normally happen to the same extent on television. For some years however the German equivalent of American Idol or the British X Factor has had an on/off pop star as a jury member, whose judgments have a tendency to be very "honest" but nevertheless funny, and German TV has never before seen anyone quite like him. Most of his comments are "too much" to repeat, however here are two of the "nicer" ones:
Du singst wie ein Gartenzwerg auf Ecstasy
You sing like a garden gnome on ecstasy
Die Schuhe sind okay. Alles andere wŁrde ich loeschen
The shoes are okay. Everything else I would delete
Englischer Garten
, the English Garden, in Munich, was Europe's first public garden, founded in 1789 by an English-American scientist who lived in Bavaria. Created upon what were former hunting grounds alongside the River Isar, The English Garden at over 900 acres is one of the world's largest urban public parks. Bigger than Central Park but smaller than London's Richmond Park, it is beautifully laid out in the informal English style of landscape gardening which was in vogue from the mid 18th until the mid 19th century.
Nevertheless, for those of a sensitive nature, in fine weather it is a good idea to plan your walking, jogging or cycling route through the park carefully, as in many areas the German cult of sunbathing in the nude,
Freikoerperkultur
literally Free Body Culture, or naturism, is enthusiastically followed. And the sights to behold are nothing like as exciting as they might sound.
Rye, multi-grain and whole wheat bread loaves photo by courtesy Flickr.com user FotoDawg, a Chimney Sweep from the 1850ís, an anonymous photograph, Koelner Dom at Night by courtesy Robert Breuer, all via de.Wikipedia
For topics in the news

And you can follow German Culture on Facebook