Long before it became an International Workers Day, Tag der Arbeit - a "Socialist Bank Holiday",
May Day
, May 1, had roots in a Beltane pagan festival; a folk tradition and the Celtic Festival of Fire.While for the Romans it was a time to worship "Life, Fertility and New Beginnings".
The revelry begins on May Day Eve in many areas of Germany, with
Walpurgisnacht
when celebrating witches were believed to gather on The Brocken, the highest of north central Germany's Harz Mountains. There they enjoyed themselves, whatever that involved for witches; flew around; partied with the devil; and waited for dawn to break bringing with it the beginning of summer.
As late as the 18th century maps of Germany continued to be drawn showing the "Witches Areas", warning unwary travelers.
Walpurga, an English missionary to the Frankish Empire (what is now Southern Germany), was canonized on May 1, 870, so
"Walpurgis Night"
was the eve before her saint's day. It is something of a twist that an 8th century abbess and Saint is associated with witches now; even as the patron saint against evil spirits.
Walpurgisnacht celebrations focus around large spectacular fires in some regions, but especially in south and southwest Germany
Freinacht
, as it is known in Bavaria, is filled by making as much mischief and noise as possible.
Vehicles are sprayed with shaving foam; anything small and mobile enough to be moved is liable to find itself somewhere completely different from where it started, so hiding things beforehand is optional but sensible; graffiti is sprayed on doors and walls; paper streamers of all types are hung from or around trees, or in fact anything tall.
And it is not a good idea to leave a car outside on Walpurgisnacht, as they seem to attract shaving foam and lipstick paint jobs.
Witch like celebrations? Probably. And it is usually young people who take part, with innocent easily rectified exuberance, although there are more serious consequences occasionally.
The morning brings a public holiday in Germany, together with sore heads in some sections of the community, and with May Day festivities around the
Maibaum
, May Tree.
Maibaum, or
Maypoles
, are a continuing part of German May Day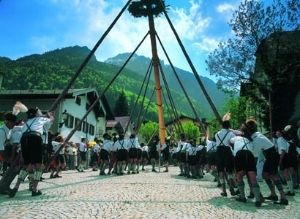 tradition; especially in Bavaria, which as they are replaced every three or five years, depending on the condition of the original wooden pole, means dependably regular spring festivities in the towns and villages.
A tall, perfectly straight pine or birch tree is chosen from the forest; felled, finished and painted. Then, as the custom is for men from neighboring towns and villages to try to steal the completed pole and ransom it for large amounts of beer and food known as "Brotzeit" - a snack, for the time leading up to the May Day celebrations the Maypole has to be protected 24 hours a day.
Despite this vigilance and the fact that by tradition each pole has to be between 20 to 30 meters high, the taller the better so it could be almost 100 feet and neither light nor easily maneuverable, the "thieves" sometimes succeed in taking it past the "cut off point"; the village signpost or town boundary.
After that, if the ransom is not paid, the Maypole can be chopped up for firewood or, with the intention of embarrassing the original owners as much as possible, erected next to the one belonging to the "kidnappers" with a plaque giving its origins.
Perhaps the most spectacular theft was in 2004 from Germany's highest mountain, the Zugspitze in Bavaria, when with the help of a helicopter the 20 meter (66 feet) "Fliegender Maibaum" was lifted from the mountain.
Unlike other regions of Germany, where a Maibaum is usually painted red to symbolize the creation of life and white for new beginnings, in Bavaria the stripes are "Bavarian sky blue" and white, but whatever their color combination once erected many are hung with shields. Beautifully carved and painted, these represent the symbols of the local trades and guilds: Butcher, Plumber, Dairy Farmer, Brewery, Pharmacist, Fireman, Lawyer, Carpenter etc., as one of the original purposes of a maypole was to show travelers and visitors services offered by the town or village.
Almost the entire population in the smaller towns and villages, in Bavaria many including young children wearing "Tracht" the traditional costume of Dirndl (gathered skirts), and Lederhosen (leather shorts or trousers), as well as "outsiders" from neighboring villages and visitors, begin May Day's celebrations accompanying the Maibaum in a brass band led procession as it is pulled to the town center; or market place.
Surrounded by music, singing, dancing, food, especially local specialties that always include the ubiquitous "Brezeln und Wuerste", pretzels and sausages, together with beer, for at least some of the townspeople several hours of hard labor now lie ahead. It takes ropes and pulleys, and at times even cranes, before the Maypole is successfully erected.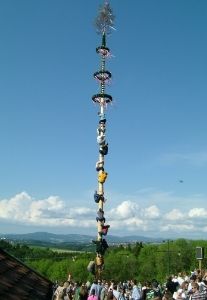 Maibaumkraxeln
, Maypole climbing, is a popular May Day "sport". Difficult because it takes place on maypoles made as slippery as possible, and all the potential climbers have their favorite, sometimes bizarre, techniques to try to reach the top without falling off.
"How many climbers can be on the Maypole at one time" is another popular tradition; a Maibaum ends up looking like a giant kebab and at the moment the world record stands at 34.
More often than not it is a beautiful May spring day, but it would make no difference if it was in the midst of a sudden cold spell, pouring rain, snow or a thunderstorm. As soon as the "mission has been accomplished", and that Maypole is in place, everyone crowds into a tent if necessary and serious partying begins.
Celebrations and "gemuetlichkeit" continue far into the night. It isn't called "Tanz in den Mai", Dance into May, for nothing as there really is dancing into the night and, whatever the weather or whenever it is that summertime is supposed to start officially, with May Day Spring and the prospect of summer's warm days have "arrived" in this small part of the world.
Illustrations: "Harz Witch" courtesy Harzlife.de in Germany's Harz Mountains, - "Maibaumkraxler" - .....courtesy freinberg.ooe.gv.at - "Putting up the Maypole" courtesy BerchtesgadnerLand.com
For topics in the news

And you can follow German Culture on Facebook