Hello, and welcome back! While staying inside and keeping warm this week as Mother Nature kicks into fall with a vengeance, I've been busy reading. And adding more goodies to the giveaway bag for November.
In the meantime, the latest book giveaway is started over in the forum with Isolde Martyn's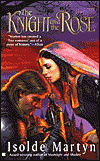 The Knight and the Rose (Berkley). If you've been hanging out here for any length of time, you'll recall I reviewed this one quite a while ago, here, so I won't repeat that, just give anyone who hasn't read it yet a taste of the story. Lady Johanna Fitz Henry is married to a horrid man. To escape him, she's willing to risk everything by going along with a stranger who offers to pretend she was his wife before being wed to the monster interested mostly in her family's wealth. So what are the chances of actually falling in love with "Gervase de Laval," her pretend husband? Considering this is a romance, pretty good.

I have another book this week that was originally released in trade paperback last year, and now is available in mass-market: Mary Jo Putney's

Christmas Revels (Jove). This one, I reviewed here, so, again, I won't repeat that. Let me say instead that you'll find five Christmas stories, four historical and one contemporary, and just in time for the upcoming holiday season! Enjoy!

Finally, I have the first in Nora Roberts's new "Key" trilogy,

Key of Light (Jove). Woohoo! Ahem. This story starts Malory, Dana, and Zoe off on a quest none of them would have imagined in their wildest dreams: to find three keys that will unlock a box that keeps the souls of three demigoddesses trapped. Malory's key is first, and helping her with her hunt is Flynn, Dana's brother and he's not exactly what Malory had planned on when she was mapping out her life in minute detail. Realistic, lovable characters are Ms. Roberts's specialty, people you'd expect to meet in your own life. Clearly, she continues to hone her people-watching skills. I can't wait for the next two books in the series--and thankfully, I won't have a long wait: they're coming out in December and January! Yippee! I'm borrowing four and a half of Cupid's five arrows for this one. I love when she delves into the paranormal. (Go here to find the reviews of the second and