Hello, and welcome back! Did you ever hurt yourself and later not know how you did it? I've somehow managed to wrench my back this week, but at least I've got plenty of reading material for when I'm not hobbling around looking like the hunchback. A few more days of rest ought to help, and by then, I'll have put a huge dent in my TBR pile.
First up this time is Kathryn Shay's latest single title,

After the Fire (Berkley). Detective Megan Hale wants a fresh start in this small town, and, with her past, the last thing in the world she wants is to fall for a fireman, and definitely not the married Mitch Malvaso. As with Ms. Shay's last book, there are so many characters here, it's hard to tell who should be your main focus, and, as with her last book, my favorite wasn't the main couple. Ms. Shay is a very good writer, but I think her stories would be better told in one of those huge, fat family saga type books than in just a few hundred pages. This one isn't a keeper for me. I'm only borrowing three of Cupid's five arrows for it.

The next book this week is an anthology,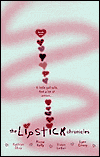 The Lipstick Chronicles (Berkley), with stories from Kathryn Shay, Fiona Kelly, Vivian Leber, and Lynn Emery. The stories focus on a group of women friends who work together at an online card company. Chick lit with a happy ending, in my opinion, and definitely not to my taste. If you're looking for something along the lines of "Sex in the City," you may feel differently about this one.

Finally, we have the latest from Leanne Banks,

When She's Bad (Warner Forever). This time out, it's Delilah Montague, sister of Katie from "Some Girls Do," and Delilah's got her own set of problems, with a noisy new neighbor keeping her from getting any sleep at night, and the bitchy daughter of her former boss and friend giving her grief at work. Benjamin Huntington, the new neighbor, is just the kind of man she wants to stay away from, rich, smart and waaaaaay out of her league. Of course, when someone abandons her baby with Delilah, his assistance comes in handy. And his kisses are delicious. I'm really enjoying this series, and I can't wait for the third installment, with sister Lori, next summer. I'm giving this one four arrows.

Don't forget to join us over in the forum for our November Book Club Discussion of Sue-Ellen Welfonder's

Master of the Highlands (Warner Forever). And keep your eyes open: I'm finalizing the details on a big giveaway for November as well.

Until next time, happy reading!