Having created such a fascinating character (what we would today call an overnight sensation) with great and seemingly unlimited power and potential, Geoffrey of Monmouth then leaves Merlin to wander off into obscurity. Was this to be the end of the legendary Merlin? No -- for Merlin returns from obscurity without the help of Geoffrey.
Geoffrey has Merlin born a
cambion
of a mortal woman and an incubus (demon in male form) from whom he inherits his supernatural powers and abilities.
This being called Merlin could have been an evil monster had he not been brought back by a French poet of the late 12th and early 13th centuries. Robert de Boron had Merlin's mother consult Blaise, a Master Druid. Blaise had Merlin baptized a Christian immediately upon birth, which thwarted any plans for the evil destiny of the child.
Blaise then becomes Merlin's teacher for life. From this frightening beginning in life, Merlin then grows to become a sage who is well known for his powers. Geoffrey did not remedy the demonic potential of Merlin, but Robert de Boron did in his poem,
Merlin
, several decades after Geoffrey left Merlin to walk off the pages of history.
Robert de Boron adds much to the character of Merlin and his legend. Robert adds weight and prominence to Merlin's powers as a shapeshifter and also gives the magician a great sense of humor. Merlin's connection to the Holy Grail (appearing first in works by Chrétien de Troyes, another French poet in the 12th century) is expounded upon by Robert.
It is Robert who introduces Blaise as Merlin's master.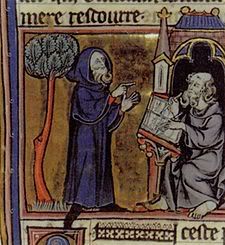 Blaise takes it upon himself to write down all of Merlin's deeds, and tells of how they came to be known and preserved. Robert's poem was rewritten in prose as
Estoire de Merlin
. It is also referred to as the Vulgate or Prose Merlin. Originally, Robert had the poem attached to a cycle of his poems in which he tells of the Holy Grail.
Robert put great emphasis on Merlin's shapeshifting abilities. Merlin appears under Robert's pen as a woodcutter with an axe dangling from his neck, a ragged coat, bristly hair and bushy beard. In the forest of Northumberland, Merlin was found by one of Uther Pendragon's men. That time Merlin was an ugly man tending a herd of beasts. He was also seen as a very handsome man, a beautiful boy, a peasant who was tall, dark and bristly, cruel and fierce looking, and as a short hunchback with a long beard and in tattered clothing.
Other authors followed Robert's rendition of Merlin and added their own embellishments to the legendary character. The Prose Merlin was like a prequel to the Vulgate Merlin Continuation in which the early adventures of King Arthur come into the legends.
In Livre d'Artus, Merlin appears to Julius Caesar in the form of a huge stag. He tells Caesar that the only one who can interpret the troubling dream Caesar had was the wild man of the woods.
Inspired by these early works, Sir Thomas Malory then took up the Merlin legacy and wrote
Le Morte d'Arthur
, which became possibly the best-known work of Arthurian literature in the English language. Mallory became the principal source for many modern writers of Arthurian legends. T. H. White used Mallory as a source for his popular
The Once and Future King
just as Tennyson did for The
Idylls of the King
.
In
The Once and Future King
, White portrays Merlin (he spells it Merlyn) as a delightful, loving, sometimes confused old wizard who lives backwards in time. Merlyn takes on the duties of tutoring a young boy named Wart (who obviously is Author) to prepare him for the use of power and royal life. Using his great sense of humor, Merlyn turns Wart into different animals for some of the lessons in order to learn from specific points of view.
From Geoffrey of Monmouth forward, countless stories, poems, books have been written about Merlin and his legendary and notable deeds. So, our Merlin came back, again and again -- every time another author writes about the Arthurian legends, Merlin returns.
*******
Image Credits:
Merlin dictating his prophecies to Blaise; French 13th century miniature from Robert de Boron's Merlin en prose (written ca 1200).
Public Domain
http://en.wikipedia.org/wiki/File:Merlin_%28illustration_from_mi ddle_ages%29.jpg
*******
Editor picks:
,