High in the mountains among the craggy rocks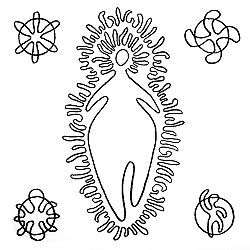 are caves where dwells Mari, supreme goddess of Basque mythology. She is depicted as various women and sometimes as different red animals, one of them being a he-goat. She is sometimes shown as riding through the sky in a chariot pulled by horses or rams. Statues of her usually feature a full moon behind her head. Most often, she is seen as a beautiful woman seated at the mouth of one of her caves, combing her long, lustrous hair with a golden comb.
Mari lives in different abodes of her choosing, depending on her moods. Her dwellings are caves that sink deep down into the center of earth. She moves between her mountain homes by crossing the sky in her fiery chariot.
Basque Country is a range of mountainous lands that stretch for one-hundred miles between Spain and France. Mari is goddess of the weather in ancient Spanish and French Basque regions.
Mari is married to Sugaar the supreme god, who is associated with storms and thunder. He is normally portrayed as a dragon or serpent. Unlike his female counterpart, there are very few remaining legends about Sugaar. The basic purpose of his existence is to periodically join with Mari in the mountains to generate the storms.
Legends say that when Mari and Sugaar are on a journey together it will hail. When storms or drought come over the lands, that is when Mari has left one of her caves. When she dwells in her cave in Mount Anboto it brought on wet weather, other caves meant dry weather. She also lived in the chasm of Murumendi. In the Aralar Range in northern Spain, she also has a cave. Aitzgorri is a massive bare stone formation with crests reaching up to 5,089 feet and this is one of Mari's dwelling places in the Basque country. Sierra de Aralar mountain range holds another dwelling for Mari.
According to one legend, Mari and Sugaar meet on the night of the Akelarre (witch meeting), which is every week on Friday night. This is when they conceive the storms that bring fertility to the land and the people.
Pagan priestesses (the
sorginak
) serve in Mari's court. It is believed that these sorginak, sometimes referred to as witches, built the local megaliths that are found in the Basque country. The megaliths they built are structures made of very large stones that interlock together.
It is unknown where the Basque peoples came from or how they arrived in Spain. Some scholars theorize that they may be some of the lost groups from Atlantis. Their origins are obscure. The megaliths that mythology claims the sorginak made are similar to ones found in other cultures where lost groups from Atlantis are thought to have migrated to. The Mayans is one of these groups. Similar megaliths are found in Ireland, Wales and throughout Europe, France, and Brittany.
As to any children of Mari, legends vary. One famous legend tells of her two sons, Atxular and Mikelatz. Atxular represents largely the Christianized Basque soul, becoming a priest after having learned from the Devil himself in a church in Salamanca and then having escaped. Mikelatz seems to have a more negative or wild character and is sometimes embodied into the spirit of storms, or as a young red bull.
Some anthropologists believe that Santa Marina, a saint revered in the Basque Country, is a Christianized version of Mari. As in ancient times, Basque women still invoke Santa Marina's protection against curses and for aid in childbirth. Many believe that if one is lost in the wilderness, a call to Mari will help them find their way home.
*******
Editor Picks:
,
*******
Image Credits:
Modern rendition of Mari
Photo by Josu Goni, 2006
Creative Commons Attribution
http://en.wikipedia.org/wiki/File:Mari_euskal_jainkosa.jpg