Hello, and welcome back! As I write this the sun is burning off the heavy frost we woke to this morning. So much for Indian Summer. Oh well. At least the birds in the backyard are happy, flitting to and from the newly-filled birdfeeders. While we stay warm and cozy inside, and I curl up with plenty of good reading material.
First up this week is Linda Howard's new one,

Cry No More (Ballantine). This is another author I wish was more prolific. Milla Edge, aka Milla Boone, has been searching for her stolen son for ten years, and along the way, has found other women's children instead. Also along the way, she's heard whispers of a man called Diaz, who may or may not be involved in the baby-stealing ring. She wants to talk to him either way, and when she gets an anonymous call about him attending a meeting, she can't just count on it being a hoax. You can always count on three things with a Linda Howard book: suspense that'll keep you on the edge of your seat; an alpha male hero to die for; and super-steamy sex. All three are here and excellently done in this one. The bad news is, now we have to wait another year for her next book. I'm borrowing four of Cupid's five arrows for this one.

Next is Lynn Erickson's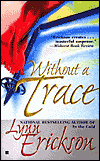 Without a Trace (Berkley). Sketch artist Jane Russo has taken some time off to try to pull herself together, but when her FBI contact comes calling, with agent Ray Vanover in tow, she has to rethink her plans. While trying to track a sick man kidnapping and sexually assaulting young girls, Jane has to come to terms with the attack she suffered years ago, an attack no one ever believed happened. While I liked this one far better than the first book I read by Ms. Erickson a couple years ago, and the suspense is good, this one still isn't a keeper for me. I didn't find myself connecting with Jane in any way, and couldn't find Ray as attractive as she did. Perhaps what stops me is that this really leans more toward suspense, though not quite as heavily as the first book of hers I read, than straight romance. I'm giving it two and a half arrows.

Next is Annie Solomon's

Dead Ringer (Warner Forever). In her second book, Ms. Solomon's suspense is just as good as in her first and I'll say right up front I wasn't left as disappointed in the romance department. Agent Finn Carver thinks he knows what to expect from Angelina Mercer when he traps her into helping him with his current investigation--some stupid bimbo who has a thing for old, rich men. He's wrong, much as it galls him to be wrong. I am so happy that I like this book even more than her last one. Last time, I was really disappointed by the glossing over of the love scene after having such crackling sexual tension leading up to it. This time, Ms. Solomon doesn't leave us hanging, and it's well worth the wait. This one's earned four arrows. I can hardly wait to see her next effort.

Finally, we have the latest from Barbara Bretton,

Girls of Summer (Berkley). What a joy to revisit Shelter Rock Cove, home of OB-GYN Ellen Markowitz, who finds herself in quite a tangle when she and her partner sleep together. That in itself isn't so bad--it's that he calls her by another name. Ouch. Hall Talbot isn't sure whether to agree with Ellen to try to go back to just being friends, or to pursue a relationship with her, but he's been in love with Annie Butler forever, and that complicates things. As does living in such a small town. What a delightful cast of secondary characters, including Ellen's sister who drops in for an unexpected and extended visit. Not to mention the emotional tangle between Hall and Ellen that always ties in to everything else going on. I hope we have more forays into Shelter Rock Cove. I'm giving this one four and a half arrows.

Until next time, happy reading!