Hello, and welcome back! I hope you're all popping over to the forum for the November giveaway. If you haven't yet, there's still one more week to get your name in the winners' pool to try for that goody bag full of great books and more.
I'm planning a break for the Book Club through the holidays--no sense trying to read in December, with everyone's holiday plans and activities taking up so much time. Instead, in January I'll announce our next book for discussion in February, and I hope you'll join us then.

This week, I have two holiday anthologies to share with you, plus the latest from Lynn Kerstan. To kick things off is

Wish List (Dorchester), with stories from Lisa Kleypas, Lisa Cach, Claudia Dain and Lynsay Sands. First up is "I Will" from Lisa Kleypas, an enjoyable story with a cad and the spinster sister of one of his carousing friends posing as a couple to regain the cad his inheritance. Interesting characters, though the ending was a little contrived. Next is Lisa Cach's "Pudding, Pastries and Thou," with a poor relation who ends up finding herself a husband before her cousin who's headed to London for a season. I liked this one, except for the fade to black when it came time for Vivian and Richard to make love. Particularly after the lead up. Very disappointing. Claudia Dain's "Union" is next, with a brother eager to bring his friend into the family by having him wed the former man's sister. I'm not a Dain fan, and this one hasn't changed my mind, with another abrupt and contrived ending. Finally is Lynsay Sands' "All I Want," where Prudence is trying her best to stop her father's gambling before he ruins the family, and falling for the man she holds responsible instead. Very sweet. I'm borrowing three of Cupid's five arrows for this one.

Next up is Lynn Kerstan's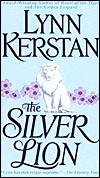 The Silver Lion (Onyx). Helena Pryce is a most unusual woman in her time, but it isn't unusual for her to seek employment as secretary to Derek Leighton, Earl of Varden. Her method for applying for this position is a little underhanded, and Derek is none too pleased to find himself with a female secretary, so he tries to foist her off as soon as possible. And then finds he needs her after all. Almost as much as she needs not to have her identity revealed to anyone, including him. You may want to refresh your memory on the characters from the first two books in this series before starting on this one. I had to go back a couple times to remind myself who was whom in the story. Not a bad way to pass an afternoon, but I didn't love it. I'm giving this one only three arrows, too.

Finally, we have Mary Balogh's

Under the Mistletoe (NAL), with four of her older holiday stories and one brand new story. For Regency fans looking for holiday stories, you've hit the jackpot with this one. I won't dig through the older stories here, but I will tell you the new story, "A Family Christmas" is touching and wonderful. I'm giving this one four arrows.

Until next time, happy reading!