Hello, and welcome back! The last of our turkey is going into a soup pot this evening, and then I'll have to cook again. But in the meantime, I've been sneaking in some reading amid all the holiday weekend rush and activities. And I'm still working on my holiday wish list to share with you later in the week.
So let's get started with this week's title book, Virginia Henley's newest book,

Undone (Signet). Elizabeth Gunning is a wonderful actress, so posing as someone she's not isn't all that difficult a task. John Campbell, though, knows her secret. Unfortunatly, luck doesn't seem to be on their side in their quest to be together. While adultery is an act that normally annoys me to no end in a romance novel, somehow Ms. Henley makes it work here, which is good, because the happy ending for these two is a long time coming. This is a pair you'll want to cheer for, with a horrid obstacle smack in the middle of their way. Not her steamiest, but still, you won't be left outside the bedroom door as in some recent reads. Of Cupid's five arrows, this one's earned four.

The other book I want to share with you this week is May McGoldrick's latest,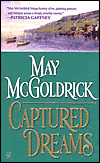 Captured Dreams (Signet). It's been far too long since we had a new romance from this author, and this one won't disappoint. Portia Edwards is on a quest--to find her family. Outwitting her grandfather in spiriting away her mother won't be easy, but the noble Pierce Pennington is willing to help, if only she could make herself ask. Of course the path to true love never runs smoothly, and this tale is no different there, but the journey is a charming one, and one you'll hate to see ended. I'm borrowing four arrows for this one as well.

For fans of Cassie Edwards, her new book is also available now:

Night Wolf (Signet). Marissa McHugh is a young woman whose life is built on lies, and when she learns the truth, her entire world shifts. For Indian romance lovers, you'll find plenty of detail and history to root you firmly in the story.

Until next time, happy reading!