Hello, and welcome back! It turns out our weather man was right after all this time, and we did get that snow last week. It's getting a little warmer now, but outside, all is still white for the moment. By the end of the week, I expect it'll be muddy more than snowy, but I can enjoy the snow for now.
As promised, here is my second gift list for you: a writers' wish list for the romance writers on your shopping list.

Just like readers (heck, most writers are readers), writers love to get new books--books on grammar, books on characters, book on formatting. We're always working to improve our writing, so count on any writer to have a hefty supply of how-to books. A great one for figuring out characters is

Complete Writer's Guide to Heroes and Heroines: Sixteen Master Archetypes. It's one of the dozen or so books that lives on the shelf over my desk instead of on the reference shelf in the book room. While we're talking characters, they need names, right? So here's a good one for that purpose:

20,001 Names For Baby.

So your writer isn't working on characters, but looking for an agent or a place to submit their manuscript? Okay, then we have:


Jeff Herman's Guide to Book Publishers, Editors and Literary Agents, 2004. Something more specific to writing romance?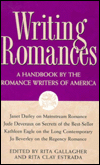 Writing Romances: A Handbook by the Romance Writers of America.

Or maybe it's inspiration they're looking for? This one is great for that:

On Writing: A Memoir of the Craft.

You don't want to get her books? All right, then something for when she's not writing. Something to help her relax...some yummy scented candles...
. Or perhaps a little something for a romantic picnic...
.

Don't like any of those ideas? I have lots more--writing supplies, a stash of chocolate, a comfy chair...email me if you still haven't heard anything you think will work. Surely we can come up with something!

Until next time, happy reading!