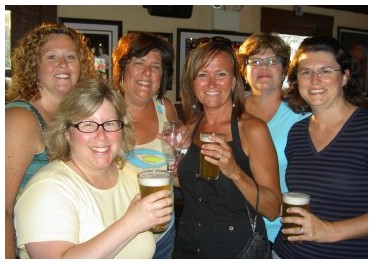 Craft Beer Tasting has become chic among American women. We have found a sense of sisterhood in trying new flavors and matching them with food. Older women can recall get-togethers in their young adulthood - drinking champagne, Sangria, and dabbling in various styles of wine. They used to be enamored by the French, who all seemed educated in viniculture. The French could easily distinguish between Chardonnay and Chablis, Cabernet Sauvignon and Merlot; but we were new to it. At one time, Americans were so clueless about wine that they ordered by color: red or white. In the same manner, just as many used to say, "I'll have a beer " … if they were brash enough to order beer at all.

To think of that now seems ridiculous. "I'll have a beer" would be the same as going into a restaurant and saying, "I'll have food." Food education is of great importance, particularly as the world gets smaller via the Internet. We understand that craft beer comes in a variety of styles, and that those styles are as varied as the flowers in a field. But many women (and men, too) are still unsure about these styles of beer, particularly if they live in a region in which restaurateurs are heavily invested in their wine cellars and unwilling to change to the new paradigm. Craft Beer has gathered strength in America. We are in an Age of Enlightenment – of artistry in brewing, creativity, and experimentation based on tradition; yet, at the same time, separating from tradition.

Even when there were over 4,000 breweries in the United States, we lacked the diversity and education that now exists among the beer community. We are part of a renaissance of flavor. We embrace local foods, just as the macro-beer companies try to wrest the control of flavor from our hands. But we have the power to taste together and to learn about craft beer with ease, among our friends and colleagues.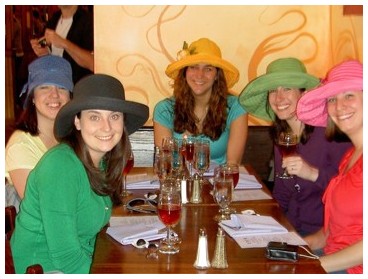 Women's craft beer tasting clubs have experienced a high degree of success. Some, such as the Women's In Pursuit of Ale (IPA) Club of Philadelphia, have been in existence since 2006. Others are newly formed and have only had a few meetings. They vary in structure, with some providing speakers for each meeting, while others just drink and knit. They may be groups of only 2, who get together to write about beer, or groups of 300 who are tutored through six or eight beer styles.

Barley's Angels is an International Women's Craft Beer Tasting Advocacy Group that is a branch of the Pink Boots Society (a professional women's group, founded by Teri Fahrendorf, and open to all women who earn income through any facet of the beer industry). The first U.S. Chapter of Barley's Angels met at Rogue Ales Public House in Portland, Oregon and was organized by Megan Flynn, Publisher of Beer West Magazine. Her presentation was also attended by Teri Fahrendorf and Radio Show Host Lisa Morrison.

Tammy Tuck and Deverie Robinson in Washington, DC organized an "after Savor" event called All Ale the Ladies, a presentation of women in beer for women who love beer. Nancy Rigberg of Home Sweet Homebrew in Philadelphia is founder of a Ladies Beer Tea held annually during Philly Beer Week.

Women's Craft Beer Tasting Groups


This list of women's craft beer tasting groups may help you locate a chapter near you and will alleviate the frustration you may currently have in trying to learn about craft beer on your own.

Barley's Angels – Rogue Ales Public House – Portland, Oregon
Contact: Megan Flynn

Barley's Angels – Toronto Chapter
email: http://www.barleysangels.ca/

Barley's Angels – London Chapter – Contact: Melissa Cole
email: melissa.cole@btopenworld.com

Barley's Angels – Australia Chapter – launching March 30, 2010 at The Local Taphouse in Darlinghurst

Pink Boots Society, East Coast Chapter (Group of Professional Beer Women) - Flying Dog Brewing Company – Frederick, Maryland - Contact: Erin Biles
email: erin.biles@flyingdogales.com

Women's In Pursuit of Ale (IPA) Club of Philadelphia – Philadelphia, Pennsylvania – Contact: Suzanne Woods
http://www.beerlass.com

Ladies of Craft Beer – National Group – Contact: Stevie Calderola, Founder
email: info@ladiesocb.com

Beer for Babes – Westmont, New Jersey - Contact: Tara Nurin, Founder
email: tara@eyesontheworld.us

Women Enjoying Beer – Ashland, Oregon – Contact: Ginger Johnson
http://www.womenenjoyingbeer.com

Ales 4 Females – Longmont, Colorado – Cinzia Wallace and Sue Smith-Troy, Founders
http://www.lefthandbrewing.com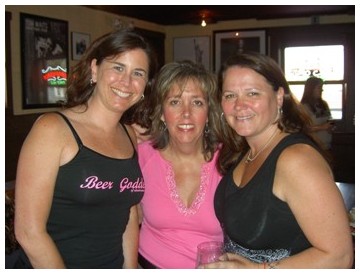 Oskar Blues Can Can Girls Beer Club – Lyons, Colorado
http://www.oskarblues.com

Bettys for Beer – Missoula, Montana – Big Sky Brewing Company
http://www.bigskybrew.com/

Women Who Like Beer – San Francisco, California – Contact: Tiila
http://www.meetup.com/Women-who-like-beer/

Colorado Lagers & Ales Sirens – (COLAS) – Denver, Colorado
http://www.meetup.com/coloradolagerandalesirens/

Beer Bunnies International – Ashburn, Virginia – Contact: Christina Wade & Elicia Belle – This group even has sponsors
http://www.meetup.com/Beer-Bunnies/

Beaumont Babes, Books, & Brews – Beaumont, California – Contact: Farrah
http://www.meetup.com/Beaumont-Babes-Books-and-Brews/

Stitch 'n' Sip – Bridgewater, New Jersey – Contact: Jacqui
http://www.meetup.com/Stitchandsip/

Stitch 'n' Sip NoLibs – Philadelphia, Pennsylvania – Contact: Gina, Amanda, and Heather J
http://www.meetup.com/Stitch-Sip-NoLibs/members/

Arizona Girls Pint Out – Tempe, Arizona
http://az.girlspintout.com/

Susan Beer Anthony, A Ladies Beer Club – San Francisco, California
http://susanbeeranthony.blogspot.com/

Women In Beer – Cambridge, Massachusetts
http://www.womeninbeer.com/

New York City Pints 'n' Purls – New York, New York – Contact: Amy Stack
http://www.meetup.com/NYC-Pints-N-Purls/

Lehigh Valley Pints 'n' Purls – Allentown, Pennsylvania – Contact: Monica
http://www.meetup.com/Lehigh-Valley-Pints-n-Purls/

This should get you started. If you would like to form a ladies' beer club in your area, you might consider opening a chapter of Barley's Angels. Information can be found at: http://www.barleysangels.org/

Cheers!

Photos are (from top): Beer for Babes at the Pour House, NJ; Ladies Beer Tea at the Belgian Cafe, Philadelphia; All Ale the Ladies at the Black Squirrel, Washington, DC - left to right) Ellie Tupper, Sebbie Buhler, Deverie Robinson, Carolyn Smagalski, Tammy Tuck, Hollie E. Stephenson, Kristi Mathews Griner, Erin Tyler, Julia Herz, Rachel Michel Murray, Gwen Gahimer Conley, and Susan Greene; Tara Nurin, Founder of Beer For Babes and Carol Van Auken DeAngelo with beer buddy

Brighten up your service:
Brylanehome Santa Fe Hand-Painted Striped Stoneware Dinnerware


Spiegelau classic beer glass:
Spiegelau Beer Classics Stemmed Pilsner Glasses, Set of 2 in Gift Box