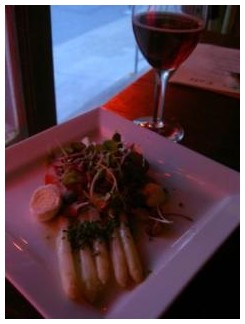 Beer used to be dull and boring – your father's drink – but with the recent renaissance in the craft beer market, wine is no longer the only act on stage. Beer has caught the lead horse at Churchill Downs, so-to-speak. Beer has become the trendy, chic drink in classy metropolitan areas.

Those connoisseurs who are savvy enough to know their beer styles display assured expertise in ordering oysters with dry stout, white asparagus salad with Boon kriek, or cheese-baked mussels with Belgian witbier. But many people would gladly accept a bit of guidance from the Executive Chef and the Cicerone.

Step up to the plate! They may not be saying it, but customers relax more when Executive Chefs and Cicerones present a Mensa Menu – an upscale list of beer and food pairings that marry together in one stroke. It's time to get your Aass bock in business.

Here are a few of my own Mensa Menu suggestions:

Nugget Necterrine – Duck Terrine + Tröegs Nugget Nectar - Creamy duck paté pairs with Tröegs Nugget Nectar, an Amber Red Ale of 7.5% ABV, crafted in Harrisburg, Pennsylvania.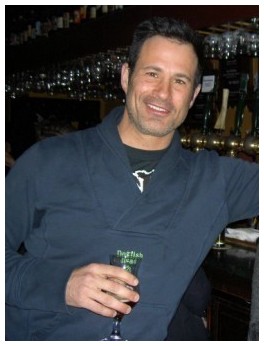 Brute Wellington – Beef Wellington + Brute Wild Ale - Steak fillet, slathered with fois gras and duxelles, and wrapped in a crêpe or a puff pastry must be served with Brute American Wild Ale from Ithaca Brewing Company in Ithaca, New York.

Caviar Cable Car – Caviar + Lost Abbey Cable Car - The nutty flavor of Caspian Osetra Caviar makes a union of bliss when served with Cable Car American Wild Ale from The Lost Abbey of San Marcos, California.

Waassabibock – Wasabi Chicken + Aass Bock - Wasabi encrusted chicken breasts pair well with Aass Bock, a 6.5% Bock beer imported from Drammen, Norway.

La Fin Du Monico Steak – Delmonico Steak + Unibroue La Fin Du Monde - A delicately marbled duo of rib-eye steak, tied with butcher's twine, makes a heavenly twin with Unibroue La Fin du Monde, an assertively complex Belgian-style Tripel from Chambly, Quebec.

Kvasssa – Polish Kielbasa + Krushka & Bochka Kvass - Spicy Polish Kielbasa is well served with Krushka & Bochka Kvass, a traditional Russian 'beer' crafted of rye by Pivovarinniy Zavod Samko of Penza in the Russian Federation.


Biirumasu – Tiramisu + Stensbogaard Sushi Biiru - Italian cake, rich with coffee, cocoa, liquor and mascarpone, makes a delicate pairing with Sushi Biiru, a Japanese Rice Lager crafted by Stensbogaard Bryghus of Ringe, Denmark.

Pannepøt Escargot - Escargot + De Struise Pannepøt - Burgundy snails in garlic butter and cognac, match well with Pannepøt Old Monk's Ale, a 10% Belgian Quad from De Struise Brouwers of Oostvleteren, Belgium.

Samiclaussen – Claussen Dill Pickles + Schloss Eggenberg Samichlaus Bier Helles - From the pickle bar, simply chilled Claussen Kosher Dills pair well with Samichlaus Bier Helles, a golden 14.0% ABV Doppelbock from Brauerei Schloss Eggenberg in Vorchdorf, Austria.

Chateaubriandhu – Chateaubriand + Dogfish Head Chateau Jiahu - A thick and juicy cut of tenderloin for two, moistened with a demi-glace, marries up with Chateau Jiahu, a 10% ABV herbed beer from Dogfish Head Craft Brewery in Milton, Delaware.

Duck Duck Gooze & Gras – Foie Gras + Lost Abbey Duck Duck Gooze Wild Ale - Delicate Foie gras mousse, rich and buttery, serves brilliantly with Duck Duck Gooze, an American Wild Ale from the Lost Abbey of San Marcos, California.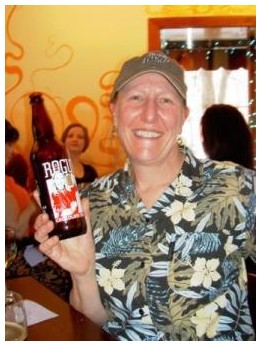 Beef Rogueanov – Beer Stroganov + Rogue Chocolate Stout - A classic Russian dish of sauteed beef cubes, drenched in a sauce of mustard and bullion, and topped with sour cream, make a rich pair with Rogue Chocolate Stout, a 6% American Stout by Rogue Brewery/Brewers on the Bay of Newport, Oregon.

Legs Benedict – Eggs Benedict + Thirsty Dog Old Leghumper - Light breakfast fare of an English muffin topped with thick smoked bacon, poached eggs and Hollandaise Sauce, combine creatively with Old Leghumper American Porter from Thirsty Dog Brewing Company of Akron, Ohio. Note: This pairing is not for the traditionalist, but for those who see the world beyond the box.

Cerveza Aguila Tequila – De Barranquilla Cerveza Aguila + Scorpion Mezcal® Gran Reserva Añejo 7 Year Old - A beer cocktail made of Cerveza Aguila, a mild American Lager from Cervecería De Barranquilla of Barranquilla, Columbia, mixes with the Platinum Medal winning Scorpion Mezcal® Gran Reserva Añejo 7 Year Old for a sizzling throat warmer.

The Mensa Menu Challenge is on! What beer and food pairings will turn your customers into solid beer connoisseurs?

Cheers!

Photos are (from top): White Asparagus Salad and Quail Egg with Boon Kriek; Sam Calagione, Owner of Dogfish Head Craft Brewery; Beer and food pairings at Monks Cafe; Rogue Ambassador Sebbie Buhler holds a bottle of Rogue Chocolate Stout that bears her image
 
What's right, what's not guide to dining like you do this all the time:
The Mere Mortal's Guide to Fine Dining: From Salad Forks to Sommeliers, How to Eat and Drink in Style Without Fear of Faux Pas


Brighten up your dinner parties:
Brylanehome Santa Fe Hand-Painted Striped Stoneware Dinnerware