The Halloween season always presents a problem in that most of us have to be diligent in keeping the vampires (and other assorted ghouls) away. Garlic, of course, is the perfect solution, so October is a great time to try out the Quick Cooking site's newest module, the
Roasted Garlic Module
. This module is easily made in the slow cooker and takes very little hands-on time. Once done, it can be used in yummy garlic mashed potatoes, roasted garlic soup, breads, appetizers, stews, vegetables, cream sauces – the list is endless.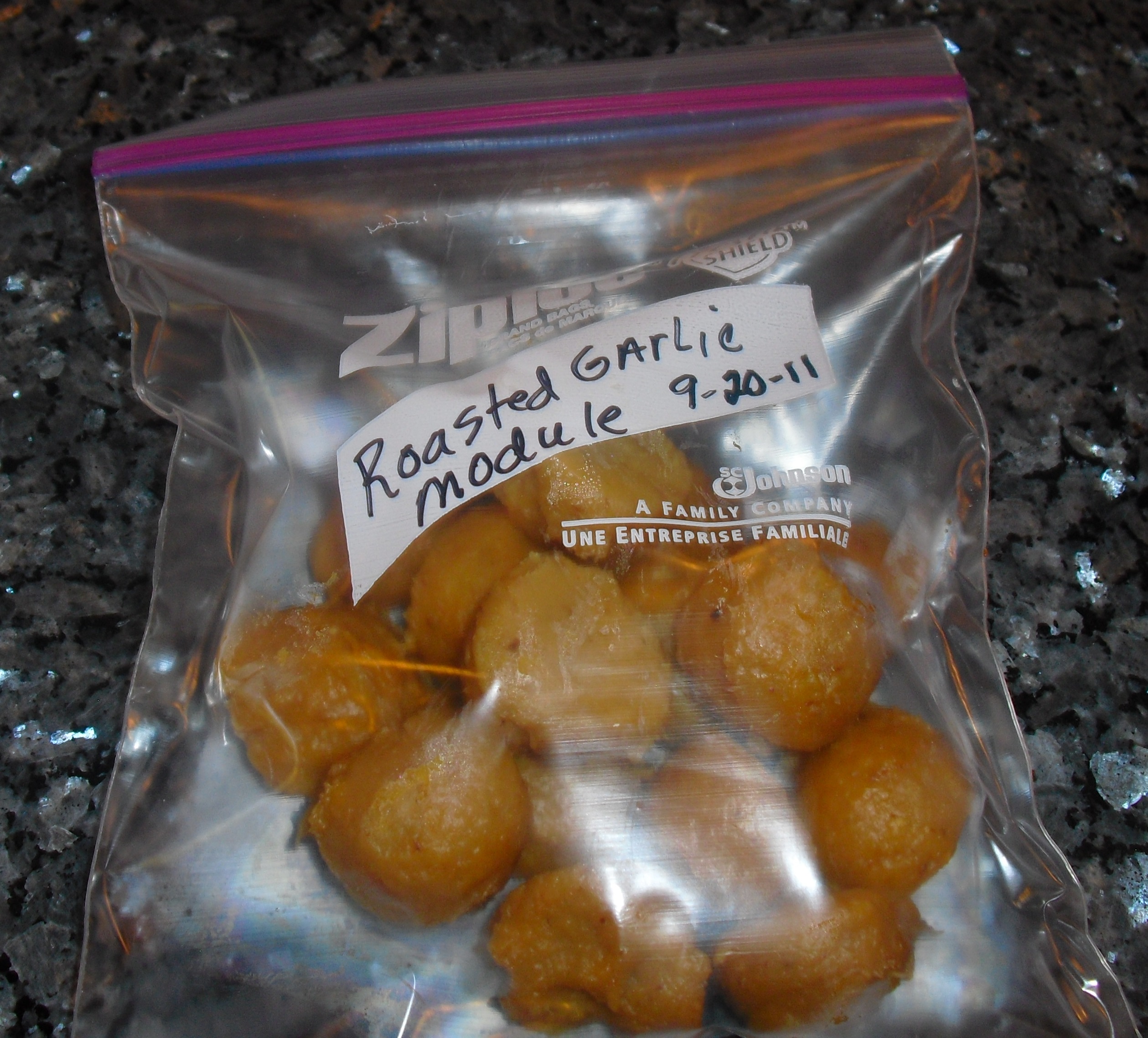 When garlic is roasted, it takes on a mellow flavor, and can be used more liberally in recipes than raw garlic which sometimes takes on a bitter flavor when too much is used. It is delicious spread on crusty bread just as it comes from the slow cooker, and when it's mashed up, it can be added to butter to make roasted garlic butter – good on hot vegetables and breads.
Once roasted, the soft cloves can be simply popped out of the skin by squeezing them, so there is little work in preparing the garlic for freezing. Since most recipes call for the garlic to be mashed, a food processor makes quick work of that (or you can use a mixer or fork if a processor isn't available), and it can then be scooped onto a baking sheet, frozen, and placed in a Ziploc® type freezer bag. When ready to use, simply take out one of the tablespoon-size mounds from the freezer and add it to your recipe.
If you're a fan of garlic (and almost everyone is), this module will come in handy and save lots of time. And if it's Halloween, your home will be protected against all those pesky vampires.
About 24 tablespoons depending on the size of the heads
12 large heads garlic
2 tablespoons olive oil
Cut the pointed end off of the garlic heads.


Place them cut side up, in the bottom of a 4-6 quart slow cooker.
Drizzle about 1/2 teaspoon olive oil over the exposed cloves.


Cover the slow cooker, tilt the lid slightly (to eliminate moisture), and turn to high.


Let the cloves cook 2 - 2 1/2 hours or until the cloves are softened.


Remove the lid and let the cloves cool.


When cool, pop the cloves from the skins.


Whole cloves may be frozen in freezer bags. For most recipes, place the cloves in a food processor; process until smooth.


Line a baking sheet with parchment; scoop tablespoonfuls of the garlic puree onto the parchment.


Place the baking sheet in the freezer.


When the mounds of the puree are frozen, remove them from the parchment and transfer them to a Ziploc-type bag; keep the bag in the freezer and use as needed.
Amount Per Serving
Calories 14 Calories from Fat 12
Percent Total Calories From: Fat 83% Protein 3% Carb. 14%
Nutrient Amount per Serving
Total Fat 1 g
Saturated Fat 0 g
Cholesterol 0 mg
Sodium 0 mg
Total Carbohydrate 0 g
Dietary Fiber 0 g
Sugars 0 g
Protein 0 g
Vitamin A 0% Vitamin C 1% Calcium 0% Iron 0%