Does your story need a monster that appears to be human? Beings like clones, mutants, and witches appear to be completely normal individuals. They could be evil, or they could be heroic. Others like homonculi and mermaids are noticeably different. .From a clamor of clones to a jake of Jedi to a fellowship of wizards, I invite you to explore the supernatural human class collective nouns.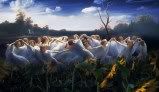 A
clone
is an exact copy of an animal, plant, or human that is made in a laboratory. There have been several arguments for human cloning, just as there have been many speak out against duplicates of humans being produced. It could wipe out genetic disease, while enhancing desirable traits. Still, isn't there the possibility that human clones would be created to do things that are not so good? What if the government decided that your character wasn't behaving appropriately and made a clone to replace him? How would his friends know that he had been killed and replaced with a clone? What if all of his friends had previously been replaced by clones? When two or more of them are together, they would be called
a clamor of clones
.
According to the theory of preformation ľ a theory which has been discredited -
homunculi
are fully formed individuals that are supposed to be present in the sperm cell. Alchemists, medieval chemists who believed you could transform baser metals into gold, were supposedly able to form these 'little men' in their laboratories. Only a few inches tall, homunculi were understood to be incredibly wise, knowing everything there was to know, even before birth. Maybe an alchemist would create
a harmony of homunculi
hoping that the mood would strike them and they would share some of this incredible knowledge with him.
You have probably heard of
Jedi
from
Star Wars
. They fought with a power called the Force and used weapons known as lightsabers. There is now a Jedi religion. They believe there is one all powerful force in the universe that binds us together, that their religion is on the inside of each person, and that we are each born with our own sense of morality. Whether the collective noun refers to a group of these believers or to a group of Jedi from the movie
Star Wars
, I don't know. That is something that you, as a writer, get to decide. Two or more Jedi are known as
a jake of Jedi
.
Mermaids
are imaginary sea creatures; the upper half of their body is that of a woman, the lower half is that of a fish. They are said to enchant people by singing to distract them so they will walk right into the water or run a ship aground. Even when trying to be kind and save the life of a man, they have the tendency to squeeze the life out of him or drown him by accident. Other stories portray them doing these things on purpose. Whatever their intentions, two or more of them are known as
a gossip of mermaids
.
Mutants
are human beings that are born with some extraordinary powers that may be good, but the characters could choose to use these powers for evil. One could have the ability to turn whatever he touches into ice. Another could have the ability to fly or have x-ray vision. The possibilities for these phenomenal powers are endless. Other possibilities are the ability to cause items or people to spontaneously combust, the ability to read minds, and the ability to walk through walls or any other solid object. Two of more of these amazing individuals would be known as
a caper of mutants
.
An individual with any of these extraordinary powers could decide to become a
superhero
, chase after villains, and help ordinary people out. If you decide to use a superhero in your story, you need to come up with a cool name and costume for him so his true identity will remain a secret, and he can live at least part of his life in peace. Two or more superheroes are known as a
league of superheroes
.
Witches, warlocks, and wizards are similar. A
witch
is a woman who practices witchcraft. In
The Wizard of Oz
, there is both a good witch and a bad witch. Two or more witches are called
a coven of witches
.
A
warlock
is a male version of a witch, especially one who uses these powers to do evil things. Two or more warlocks are
a coventry of warlocks
.
A
wizard
is also a man who has magical powers. He is usually in the service of a king or some other higher power. Merlin is the wizard who faithfully serves King Arthur in the Arthurian legend. Two or more wizards are known as
a fellowship of wizards
.