Looking for a delicious and easy soup to serve as at Thanksgiving dinner this year? This fabulous
Curried Pumpkin Soup Baked in a Pumpkin
is delicious, easy, and the components can be made a day ahead. The pumpkin shell is filled with the prepared soup an hour or so before serving, and when served on a platter surrounded by autumn leaves (silk work well), makes a presentation that will draw oohs and aahs. Make sure there is at least a cup of the versatile
Basic Cream Soup Mix
on the pantry shelf; it saves time and thickens the soup.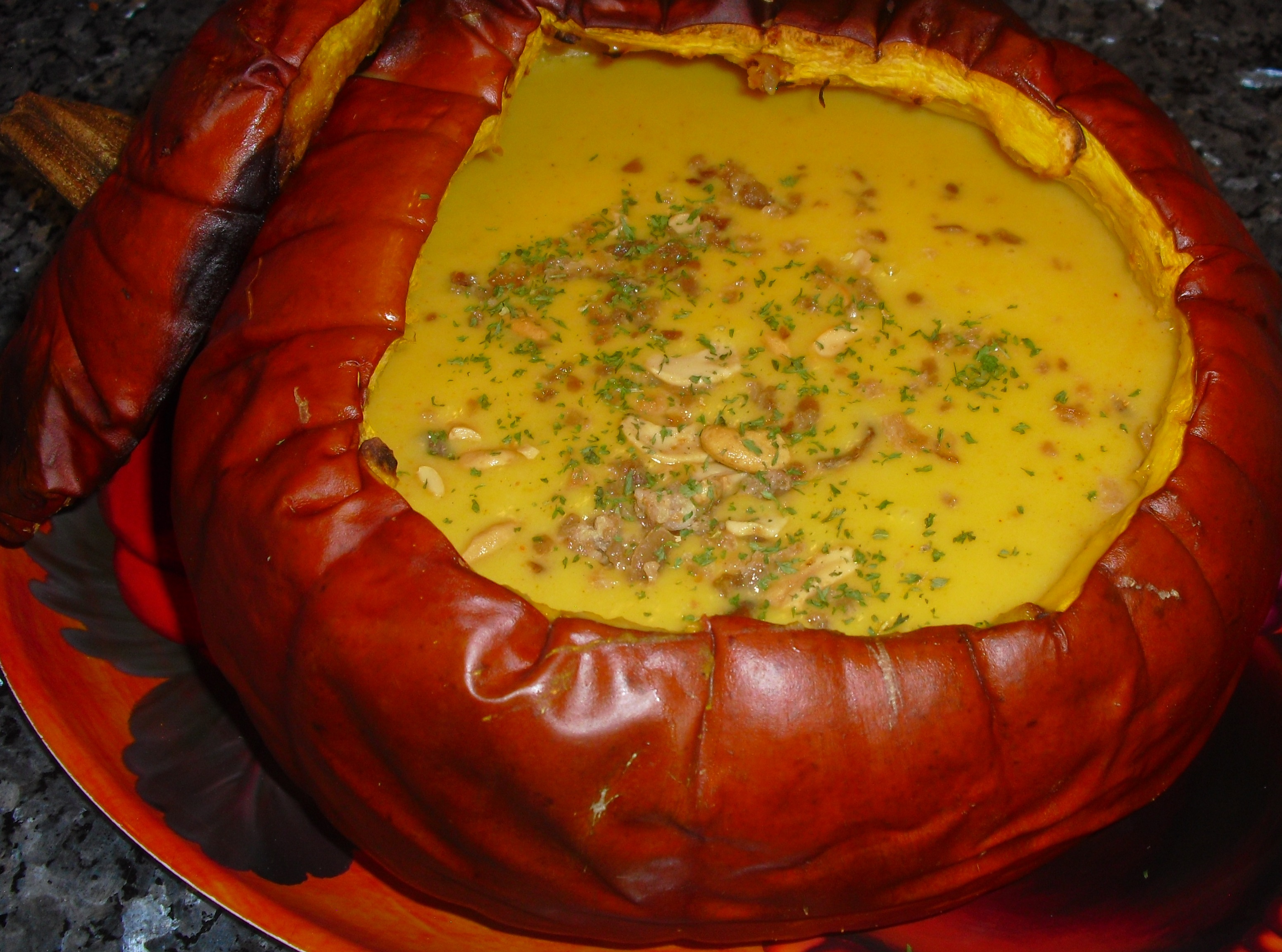 The only real work involved in making this soup is cleaning out the seeds and strands from the pumpkin which can be done ahead. If there are kids around, they seem to like doing it, so the job can be delegated. While this soup makes a great presentation at a fancy Thanksgiving dinner, it's also great for lunch with salad or a sandwich.
8 - 10 Servings
1 7 to 10 pound pumpkin (a squatty rather than tall pumpkin fits in the oven best)
5 cups chicken broth
1 medium onion, chopped
1 medium carrot, chopped
2 apples, such as Granny Smith, peeled, cored, and chopped
1 tablespoon chopped fresh ginger
1 1/2 teaspoons mild curry powder
1 1/2 teaspoons hot curry powder
1 14 oz. can unsweetened coconut milk
1 cup basic Cream Soup Mix
2 cups water
1 cup cashews, coarsely chopped
fresh parsley
salt and freshly ground pepper, to taste
Preheat oven to 375°.


Place the pumpkin in the sink and clean the outside thoroughly with soap and water.


Cut the top 1/4 off the pumpkin, scoop out the seeds and strings from the inside and from the top, and place on a large baking sheet.


Place the lid on the pumpkin and bake 60 minutes.


Remove from the oven, and with a spoon, scrape the pumpkin flesh from the inside leaving about 1/2" of the flesh. The squash will not be tender at this point, which is as it should be. You should have between 4 and 6 cups pumpkin flesh.


Place the pumpkin flesh in a large saucepan with the chicken broth, onion, carrot, apple, ginger, curry powders, and coconut milk.


Bring to a boil and let cook 15-20 minutes or until the vegetables are tender.


Using a hand blender, blend the vegetable mixture until smooth. Alternately, transfer the vegetables and broth to a food processor or blender and process until smooth; pour the mixture back into the saucepan.


Whisk together the cream soup mix and water; stir into the pumpkin mixture and stir over medium heat until boiling.


When boiling, pour into the pumpkin shell, place the top on the shell, and place in the oven for 1 hour.


To serve, ladle the soup into bowls and sprinkle with cashews and parsley.
Note:
The shell can be baked up to 2 days ahead, and the vegetable mixture can be made up to 2 days ahead as well. Refrigerate both separately. An hour before serving, place the shell in the oven to heat while the oven heats and heat the vegetable mixture until boiling before adding to the pumpkin shell.
Amount Per Serving
Calories 334 Calories from Fat 212
Percent Total Calories From: Fat 63% Protein 10% Carb. 27%
Nutrient Amount per Serving
Total Fat 24 g
Saturated Fat 14 g
Cholesterol 12 mg
Sodium 1078 mg
Total Carbohydrate 22 g
Dietary Fiber 2 g
Sugars 0 g
Protein 8 g
Vitamin A 1% Vitamin C 6% Calcium 0% Iron 15%