They say a picture is worth a thousand words, but it is up to the author to write those thousand words. (Richard Petracca)
I'm going to share some pictures with you in this article. You need to study each picture and ask 'what if' questions and come up with stories that could be written based on each photograph. Allow your imagination to take flight and explore all possibilities.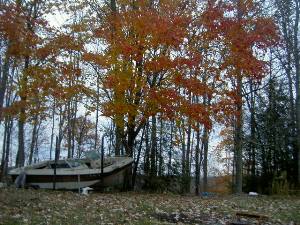 Obviously, this picture was taken during autumn. There is an old boat with a seat from a vehicle leaning against it, some trees with orange and yellow leaves, and a yard. Now for some 'what if' questions.
What if the boat is meant to attract attention away from something else in the yard that is really important, something that the owner wants to keep hidden?
What if there is a fortune in old Confederate cash sewn inside the cover of the vehicle seat leaning against the boat?
What if in those beautiful trees lives something sinister and evil?
What if the boat is actually a spaceship from a far away planet and its inhabitants live here on earth disguised as humans?
What if the lady who owns this boat has chosen to keep it in memory of her husband who died on this very vessel ? How did he die?
A boring mushroom in the middle of a yard. What could one possibly come up with to write about a mushroom? Let's try some 'what if' questions about the mushroom.
What if, underneath this mushroom that sprung up out of nowhere overnight, there lives an entire colony of little people?
What if this colony of little people is planning to take over the world and they actually have the capability to do it?
What if this mushroom is poisonous, so poisonous that anyone who touches it will die immediately?
This mushroom appeared overnight, so what if it is a time machine? Or maybe it is a spaceship?
What if the mushroom isn't real? What if the stem of it is made out of plastic and is holding top secret documents?
In this picture, we have a very unhappy little boy, Tyler. I'm going to suggest some questions about what is going on.Why is he so unhappy? Maybe we can figure out why if we ask some questions.
What if that isn't just a regular seatbelt across the front of him, but a super strong strap specially designed to keep him from escaping?
What if this boy is actually a superhero and is only being held back from destroying his captors because they have kidnapped his parents?
You can see a house out the back window of the car. What if that is the royal palace of his country and this little boy is king? Is his country being overthrown by his enemies?
What if he has a secret weapon hidden underneath the seat, but has forgotten about it? Will he remember this weapon in time to stop the wicked plan his abductors have set into motion?
What if it is never discovered that the young king is missing? What if his abductors have replaced him with another young boy that looks just like him, but will do whatever these evil people desire?
This picture is of some cars in a parking lot and it appears that something is going on behind them.
What if there is a bomb underneath one of the cars and it is set to go off as soon as the car door is opened?
What if that black cloud above the cars is really a cloud of poisonous gas preparing to descend on the owners of the vehicles? Is there just one person among them them that is the intended victim? Or are all of them meant to be killed?
What if there were a sudden earthquake, an earthquake so powerful that the ground opened up and swallowed all of the cars?
What if one of those vehicles is actually an armored car that has been designed to transport large amounts of cash? And what if someone else is present who intends to rob this car?
What if the cars were alive and lived as we do? What kind of gathering is this? Do the cars keep people around as their slaves?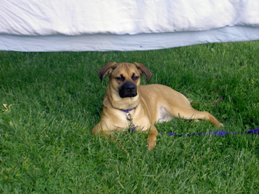 This picture is of a dog on a leash stretched out in the grass.
What if this dog was actually a human and she had turned into a canine because of a spell cast on her by an evil witch?
What if what appears to be a blanket hanging above her is actually part of an impenetrable wall, the bottom of which is invisible?
What if she is planning her escape? Wh
at if she knows that on the way are those who are planning to rescue her? What will she have done to her captors?
What if this dog can talk? What if her thoughts come to life?
What if she can walk upright on her two back legs and talk? Is she part of a circus?
What did you come up with for writing prompts for the above pictures? Please share your ideas with us in the Fiction Writing forum.