Monks in Germany's 'Middle Ages' not only had more of a privileged life than an austere one, they were also very clever at bending the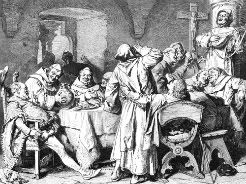 Food Allowed
rules during their Lenten Fast, or in fact any fast, and this chicken recipe is an example.
There were special
'foods'
for Lent in Medieval times, which included extra strong Lenten Beer brewed in their monasteries to make the whole idea of fasting much easier,
beer
is still considered a 'food' in some parts of Germany, while at the same time their meals were not all frugal.
Using medieval recipes limited to vegetables, from their vast monastery gardens, during the forty days of fasting might have been the ideal, however forbidden meat fillings were put into
pasta pockets
so
God could not see
fasting 'laws' were being broken, while as an alternative to the meat usually added to their recipes
Biberschwanz
, Beaver Tails, were used.
This, the monks explained, was possible because as a beaver spent a great deal of time in water it could therefore be grouped with
Fish
, and whereas meat that came from land animals, such as pigs, cattle and birds, which also covered chicken, was banned during a fast, it was permitted to eat something which came from the sea.
Tastes, and German food traditions, have changed so it is doubtful many people would now knowingly eat beaver, and despite a recent mini-boom in their population in certain areas of eastern Germany they have been an endangered species in the country for some time.
So this 13th century recipe from a monastery in Mainz, in the south-west of the country, has been adapted to be made with chicken breasts, although by tradition in Germany the breasts are cut so they vaguely resemble a beaverís tail.
In the 13th century eggs should not have been included in any meal taken during the fast from Ash Wednesday, they were nevertheless. However, as they were covered by melted cheese, once again
the sins being committed could not be detected
by any eyes which were looking down from the heavens and checking out fasting laws were being followed.
13th Century Monks Lenten Chicken
Ingredients for two portions:
8 oz chicken breast filets without skin
2 eggs
4 oz soft or semi-soft cheese (such as Cream Cheese, Ricotta, Brick, Havarti or Monterey Jack)
8 tablespoons clear chicken broth
4 tablespoons cream
1 tablespoon butter
1 tablespoon all purpose flour
Salt and ground white or black pepper to taste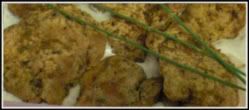 Cut the chicken filets into long flattened strips
Fry gently in the butter, season with salt and pepper
Boil the eggs until they are medium hard, with a 'soft' yolk
Allow to cool, peel and halve
Bring the chicken broth to the boil, mix the cream and flour until smooth, add the hot broth gradually to the mixture, stirring constantly
Return to pan and stir while heating through for about 2 to 3 minutes, season with salt and pepper
Add half of the cheese to the mix, continue stirring and if necessary add more salt and pepper
Pour the sauce into an oven proof dish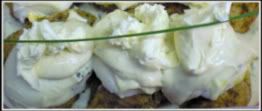 Layer chicken pieces over sauce
Place egg halves on chicken
Cover the eggs with the remaining cheese and cook until the cheese has melted
Serve with a green salad,
Warm
or
Cold
potato salad, green beans or spinach.
Guten Appetit!.....And enjoy your Lenten Chicken, with an almost clear conscience. Except of course if it isn't Lent - then you can just ENJOY it.
Image: Monks and nobles enjoying the monastery's wine, from a sketch by Ed. Gruetzner, courtesy deutschland-im-mittelalter.de, a great site which covers all aspects of life in Germany during the Middle Ages. In German.
For topics in the news

And you can follow German Culture on Facebook
Fr. Albert Holtz's Pilgrim Road: A Benedictine Journey Through Lent is an entertaining, well written, and perceptive travel guide on two levels. A fresh take on an inner and outward journey through Lent, it could turn into a life changing read.
While From a Monastery Kitchen: The Classic Natural Foods Cookbook, is a wonderful basically vegetarian cookbook, arranged in seasons and with no meat recipes included, although there are a few with fish. It is an updated version of an original 1970's Monastery cookbook, which reflects Brother Victor-Antoine's French heritage with easy, no-nonsense recipes, simple, healthy and tasty.