They say a picture is worth a thousand words, but it is up to the author to write those thousand words. (Richard Petracca)
What do you see when you look at a picture of a backyard? Do you just see a pretty backyard or do you see more? What can you read into this picture? When you look at any picture, do you only see what is right in front of your eyes? Or do you see more? Maybe you can see romance. Or maybe you are someone who reads mystery and intrigue into everything you see.
I'm going to share a picture with you in this article. You need to study it, ask 'what if' questions and come up with stories that could be written based on the photograph. Allow your imagination to take flight and explore all possibilities.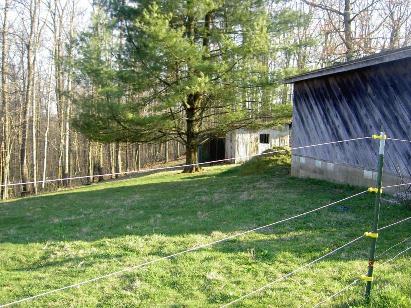 This is a picture of part of my backyard. There aren't any leaves on the trees, so it would be either fall or early spring. There are two structures of some sort on the land, and there is a huge pine tree between them. A mound of some sort is behind one of the structures. It just doesn't look like anything exciting could happen here, but let's look just a bit deeper.
What is that mound behind one of the structures? Is it simply a mound of dirt? What if that mound of dirt is covering up a body? Maybe it isn't covering up just one body, maybe it is several bodies. Lots of people have disappeared lately and none of them have been found. What if this is where they ended up?
What if the mound is filled with buried treasure? Maybe several banks have been robbed, but where the robbers have hidden the money remains a mystery.
There is an electric fence up. Why? What kind of animals roam around this yard? What if whoever lives here has wild beasts that can only be kept in with an electric fence? Okay, I know that logically no wild animal could be kept in with just an electric fence, but remember, this is fiction. What if man-eating tigers or ferocious bears roam through the yard to keep intruders out? What if the animals do jump over the fence to chase wanna-be-intruders away, but then return to the enclosure?
What about the structures? What are they hiding? The setting looks to be so peaceful and serene. What if one of the structures is a bakery? What if this bakery have anything to do is somehow connected with the bodies or bones buried in the mound? The mound could contain the bones of illegally captured and killed wildlife.
What if there is a family of squirrels living in the pine tree? They are not your ordinary squirrel family; these squirrels are special. The people who live in the big house have given this tree to the squirrels in trade for the job they do. What if their job is to keep all other squirrels away? What if their job is to keep all the moles away? Or what if their job is something a bit more mysterious? What if they sneak into other people's trees? What if they steal the house keys these people leave outside so their 'landlords' can make copies of them?
What if this place is a training ground for spies?
What if a young couple have run away from parents who are trying to keep them apart and they are hiding out here?
What if one of the structures is actually an alien spaceship?
What if. . . ?
Have fun coming up with stories from this picture. After writing this, I know I will never look at my backyard the same again.