They say a picture is worth a thousand words, but it is up to the author to write those thousand words. (Richard Petracca)
What do you see when you look at a picture of a lake? Do you just see a lake? Or does your imagination go wild as you look deeper? When you look at any picture, do you only see what is right in front of your eyes? Or do you see more? Maybe you can see romance. Or maybe you are someone who reads mystery and intrigue into everything you see.
I'm going to share a picture with you in this article. You need to study it, ask 'what if' questions and come up with stories that could be written based on the photograph. Allow your imagination to take flight and explore all possibilities.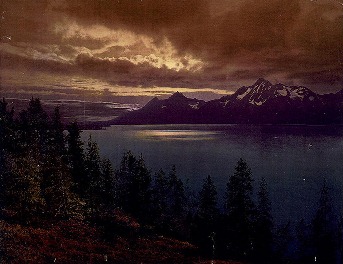 In the picture, you see a lake with mountains on one side and some pine trees on a hill on the other side. It is sunset, and the lake appears to be so peaceful and calm. The setting sun is casting a golden glow through the clouds. Just looking at this picture should calm a person.
This picture could inspire a serene and peaceful story. What if newlyweds traveled here for their honeymoon? What if a family came here for vacation? What if old friends meet here after being separated for years?
I'm not much for calm and peaceful stories, but you've probably already figured that out from my previous writing prompts articles. So what do I really think about when I see this beautiful picture full of calmness and tranquility? I wonder just what lives in that lake.
What if the lake is home to a creature that comes out at night? So far it has only killed animals, but it has been watching a group of young people that are camping out nearby. And tonight it has decided that maybe it is time for its first taste of human flesh.
What about those mountains? Who or what stays hidden there? What if there is a scared and grizzled old gold miner hidden deep in those mountains. He somehow managed to walk through a time portal and was zapped to the future. He is scared out of his wits. He doesn't know where he is anymore, nor does he know how he got there.
What about the side of the lake with all of those pine trees? Let's imagine there are also rocks of various shapes and sizes amidst all of those trees. Pikas are relatively small, adorable, and gentle creatures. Each one is about the size of a medium baked potato. What if something happened to them? These gentle creatures live here among the trees and rocks. What if they were infected with a disease that caused them to turn into vicious creatures that would attack mercilessly?
How many writing prompts can you come up with by looking at this picture?