Germany's Avenues Route, the tree-lined 'Deutsche Alleenstrasse', is just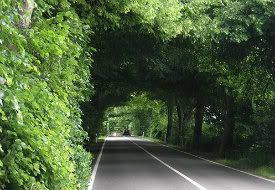 one of the country's over 150 scenic and historic
theme routes
but at 2,900 km it's the longest, stretching from the Baltic island of Ruegen in the north to the World Heritage Site of Reichenau Island on Lake Constance in the south.
Running parallel to main roads it passes through the tree-lined avenues of some of the most beautiful areas of Germany, and ten of the federal states, forming a window onto glorious scenery and untouched landscapes that change with the seasons, and connect hundreds of years cultural heritage.
Trees, many of which are 250 years old, were planted to help travelers find their way, and over the centuries they have provided shade and shelter from rain, snow and wind, as well as a safe and permanent habitat for nature's plants and animals. While there are those that every season are filled with different varieties of fruit, so for passers by it becomes 'help yourself' time. A feast not only for the eyes but also the appetite.
A plus point for the old 'East Germany' was that although in the West many avenues were replaced by new roads, lack of finances and resources meant along with many historic houses countless old avenues remained untouched on that side of the wall.
"Allee" can describe any wide avenue in German, but the term usually refers to one that is tree-lined, and the word is a remnant from "Franzosentid", the period of French occupation, coming from "allez" French for "to go", and the origin of the term "all้e", "walking path", but these tree filled avenues were in place long before Napoleon's army, and their language, arrived.
Soon after Germany was reunified in 1989 projects were begun to 'Save the Allees', as the modernizing programs which had been set in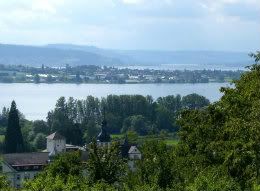 place were in danger of destroying the centuries old trees and their avenues, with the result that by 2000 the route had been successfully preserved and stretched across the country.
The avenues wind through scenery as diverse as it could possibly be, ranging from meadows, and vineyards to mountains and lakes, and are edged with trees that include a mass of chestnuts, sycamores, oaks, beech, maple, cottonwoods and willow, with apple, plum, pear and cherry trees to supply both blossom and fruit.
It is one of the most popular routes for tourists in Germany, and when the trees are in full leaf is like traveling under a beautiful sun dappled green canopy, an exhilarating experience.
Even though the sunlight peaks through the branches it can be shaded, so to be on the safe side travelers who are walking or cycling should wear light reflecting gear, and if driving keep the head lights on, while of course where there are trees there are also leaves on the ground, which again means a little extra care must be taken.
Although when the the trees are bare, but the views nevertheless just as stunning, it is still necessary to keep to the 80 kilometer-per-hour speed limit on the Alleenstrasse, 60 kms on the curves, and as the old trees are both close and large overtaking maneuvers must be kept to safe areas, because hitting one can be easily done and the results dramatic. A fact born out by the occasional cross by the roadside.
The Avenues Route is designed for a leisurely journey filled with culture and history, as well as one idyllic view after another, all of which can be enjoyed not only 'on the move' but from the many, and frequent, off road parking areas to be found in each of the ten sections, with every segment giving the traveler a different impression of Germany.
The Alleenstrasse takes you through:
Ruegen – Rheinsberg
Rheinsberg – Wittenberg and Rheinsberg – Dessau
Dessau – Duderstadt
Wittenberg – Dresden – Plauen
Duderstadt bzw. Plauen – Fulda
Fulda – Bad Kreuznach
Bad Kreuznach – Freudenstadt
Freudenstadt – Konstanz
H๖xter - Dortmund
Dortmund - Bad Honnef
And it is a joy to travel across Germany down shady tunnels formed from centuries old trees, which have witnessed the passage of travelers from the times of oxen carts and stage coaches to the present day.
Deutsche Alleenstrasse, photo ARGE Buero Siebengruende - Map of Deutsche Alleenstrasse, Author: NordNordWest and a view of Reichenau Island, photo: Tungsten both courtesy de.Wikipedia
For topics in the news

And you can follow German Culture on Facebook
Germany (Eyewitness Travel Guides) - This has to be the best travel book for Germany out there. I wouldn't go anywhere without my copy while the beautiful illustrations and detailed descriptions also make it ideal for arm chair travelers, or anyone who is just interested in Germany.