During the 1800s Alabama was in the midst of rapid changes from an influx of new settlers, changes in taxation, implementation of a state wide banking system, political reformation, and the Panic of 1837 which was followed by a depression and high unemployment levels throughout all the states. Into this time of uncertainty, turmoil, and great change was born one who would become one of Alabama's most influential citizens and an activist for education and prison reformation. Julia Strudwick Tutwiler was born in 1841.
Julia was the third of eleven children born to Henry and Julia Ashe Tutwiler in Tuscaloosa, Alabama. Henry Tutwiler (1807 - 1884) earned his Master of Arts degree at University of Virginia and was among the first four to be recruited as a faculty member for the then new University of Alabama. He became one of the most respected leaders of education in Alabama.
Henry Tutwiler instilled in his children the same dedication and emphasis on education that he himself always believed in. He also firmly believed that girls deserved to be as well educated far beyond just the finishing school tradition. He wanted his daughters to become as educated as he had been.
In 1861, when the Civil War between the north and south began, Julia began her first year of higher education at Vassar College in Poughkeepsie, New York. That was the same year the college was founded and at that time was a women's college only. Julia's education was further enhanced in Germany, France and also at Washington and Lee University, the liberal arts university in Lexington, Virginia.
Julia than began her career when she became co-president of Livingston State Normal School, which is now the University of West Alabama. The school, chartered in 1835, was an academy for women only.
Like her father, Julia was motivated to see that women were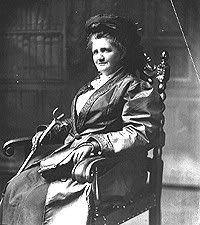 given more opportunities in higher education. Giving her full support to ten of her Livingston students, Julia lobbied to get these women admitted to the University of Alabama. This small group from Livingston State Normal School became the first women to be admitted to the university. Julia was also very influential and active in the creation of an industrial school for young women. In October 1896 the Alabama Girl's Industrial School opened because of Julia's dedication and hard work. The school in now the University of Montevallo.
Besides Julia's dedication and determination to see that girls and women had the benefits of higher education, she also was an activist for prison reform. She lobbied for the separation of women from men and juveniles from adults within the state penal system. She also pushed for a better sanitation program, as well as educational opportunities for prisoners and the choice for religious needs.
The Julia Tutwiler Prison for Women in Wetumpka, Alabama was named in Julia's honor because of her dedication and demands for penal reformation.
Julia was also a poet. She wrote a poem that became the official state song of Alabama. In 1953 Julia Tutwiler was elected to the Alabama Hall Of Fame and inducted to the Alabama Women's Hall Of Fame in 1971.
Julia Strudwick Tutwiler died in 1916.
Editor Picks:
,