Official Name:
Zambia
Alternate Names:
The Republic of Zambia
Former Names:
North-Western Rhodesia, North-Eastern Rhodesia, Northen Rhodesia
Capital City:
Lusaka
Flag:
The flag has a green field with a panel of three vertical bands of red (hoist side), black, and orange below a soaring orange eagle, on the outer edge of the flag.
Date of Independence:
October 24, 1964 from Britian
National Anthem:
"Lumbanyeni Zambia" (Stand and Sing of Zambia, Proud and Free)
Population:
11,669,534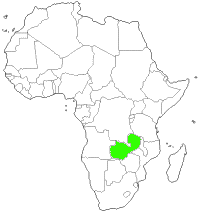 Size/Area:
290,587 square miles, slightly larger than Texas.
Land Locked:
Yes
Coastline:
None
Bordering Countries:
Democratic Republic of the Congo, Tanzania, Malawi, Mozambique, Zimbabwe, Botswana, Namibia, and Angola.
Administrative Divisions:
9 provinces; Central, Copperbelt, Eastern, Luapula, Lusaka, Northern, North-Western, Southern, Western.
Major Cities:
Lusaka, Chingola, Kabwe, Kitwe, Ndola
Languages:
English, major vernaculars - Bemba, Kaonda, Lozi, Lunda, Luvale, Nyanja, Tonga, and about 70 other indigenous languages
Religions:
Christian 50%-75%, Muslim and Hindu 24%-49%, indigenous beliefs 1%
Major Holidays:
January 1 - New Year's Day
March 12 - Labour Day
Good Friday
Holy Saturday
Holy Monday
May 1 - Labor Day
May 25 - Africa Freedom Day
First Monday of July - Heroes Day
First Tuesday of July - Unity Day
First Monday of August - Farmer's Day
October 24 - Independence Day
December 25 - Christmas Day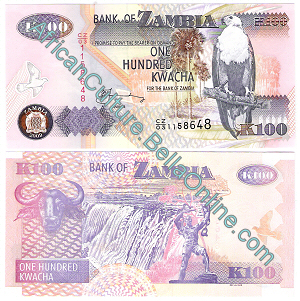 Currency:
Zambian Kwacha
Currency Code:
ZMK
Highest Point:
an unamed location in Mafinga Hills
Lowest Point:
Zambezi river
Bordering Bodies of Water:
Zambezi River with Zimbabwe, Lake Kariba with Zimbabwe, Lake Mweru with The Democratic Republic of the Congo.
Bodies of Water:
Zambezi River (includes Victoria Falls), Lake Kariba, Lake Mweru
Climate:
Zambia has a tropical climate that is modified by elevation and a rainy season that occurs from April through October.
Major Industries:
copper mining and processing, construction, foodstuffs, beverages, chemicals, textiles, fertilizer, horticulture.
Major Agricultural Products:
corn, sorghum, rice, peanuts, sunflower seed, vegetables, flowers, tobacco, cotton, sugarcane, cassava (tapioca), coffee, cattle, goats, pigs, poultry, milk, eggs, animal hides
Natural Resources:
copper, cobalt, zinc, lead, coal, emeralds, gold, silver, uranium, hydropower
Time Zone:
UTC+2