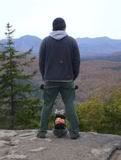 Do you have a set time that you write each day? Or do you wait to be inspired?
When I have a story that Iím ready to work with, I usually start around 6:30 AM and putter around with it throughout the day. I never do less than two thousand words, unless the story has completely stalled. If I just have a vague idea, then my writing times become very sporadic. Thatís the point when I start driving my wife crazy because Iím complaining constantly about not getting work done.
How long did it take you to complete each of your books?
From start to finish,
Echoes
took eight weeks, and
Gehenna
took six. My new one is already four weeks along, but itís looking like it will be closer to twelve before I complete it. After this book is finished, Iíll be following a release schedule of every two or three months.
How much research, if any, did you have to do for either book?
I had to do quite a bit for
Echoes
. Most of the book takes place in Washington D.C., so I had to pay close attention to the layout of the city to ensure that I didnít do something stupid like having the Washington Monument on the wrong side of the White House. I also had to ensure that I got the terminology regarding extrasensory perceptions accurate. The names of all the firearms, secret service vehicles, and other thriller staples had to be factual as well.
The research for
Gehenna
was simpler. I primarily had to ensure that the names, products, and words being used were all a part of the language during the late 1800s. For instance, I wanted a character to call someone a Ďskankí, but had to settle for Ďwhoreí, because skank wasnít used until much later on. Oh the hard life of being an author.
How did you choose the names for your characters?
For
Echoes
, the names just came to me more or less. Asher is just a cool name. Sammy, Nami, Smith, and the other assorted characters just felt right at the time. Murdock, with a slightly different spelling, is actually my homage to a great villain from MacGyver. You might remember him from the show. MacGyver always killed him at the end of an episode by throwing him off a mountain, blowing him up, or dropping a building on him, yet there he was the next season.
All of the characters in
Gehenna
are named after personal friends of mine, with the exception of McCall. I didnít want to name the tough guy of the story after someone I knew for fear of the appearance of giving one of my friends preferential treatment. Now that I said it like that, I realize that it must seem as if I think my friends are petty. Is this interview going to be available on the internet? Crap.
What new doors has your writing opened up for you? Were there any opportunities that you had never considered before?
Iíve been able to talk to a lot of very interesting people from all over the world. Itís an odd feeling having people request autographed books or telling you how much they love your characters. Iíve also been fortunate enough to talk with some other authors and get to know them, which has been really great.
Do you ever become bored with what you are writing? If you do, how do you get past that point?
If I become bored with my story, I have a zombie crash through the wall or a car explode. The joys of writing action and horror booksÖ
How do you manage to balance your time between your job, family, friends, and writing?
Iím fairly certain that the friend problem will be taken care of after this interview goes live. As for my wife and family, I treat writing like any other job. I focus on it when itís time to work, and put it down in the evenings when weíre together. On the weekends I usually leave it alone or do some writing in the mornings and then ignore it for the rest of the day.
If you could spend one hour with just one person, whom would you choose?
Iím sure most people say something insightful here, like Barack Obama or Thomas Jefferson. Iím going with David Lee Roth from the eighties. You know something crazy is going to happen if youíre hanging out with that guy.
Do you have any advice for writers who are striving to be published?
Stop thinking about writing, and just do it. Sit at a desk and write. Maybe your work will stink, or it could become the next
Hunger Games
, but youíll never know until you put words down. Getting started is often the hardest part. With the tools available to authors now from Amazon, Barnes & Noble, and traditional publishers, the only thing holding you back, is YOU.
Thank you, Jason, for such an entertaining and interesting interview.
,