Indian cooking equipment is equally important alongside spices, condiments and other ingredients in deciding the taste and flavor of food. The shape of vessels used as well as the material used to make them largely impact dishes made. Certain dishes like idly and aapam among others are made using specially designed cookware. Most of the cookware in use now have been modified and developed out of precedents used over several ages.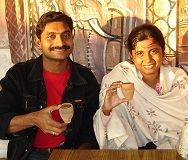 Among the various cooking utensils used in India, Earthenware deserves special mention. This is because clay pots, pans and other vessels have been a part of the Indian Kitchen from ancient times. In spite of new cookware flooding the market, most Indian households still have a stock of earthen vessels. This is because of the many advantages of cooking in clay pots.
Earthen vessels are perfectly eco friendly. Made from clay, these vessels are safe to cook in. Food cooked in earthen vessels taste much better as clay utensils made from natural elements preserve the taste, nutrition and flavor of food. Clay pots heat fast and cooking in them is easy. The only hardship to be endured is the care in handling earthen vessels. However even cracked pots can easily be converted into garden pots to grow plants.
Throughout India, people use earthen cookware. Though urban Indians shy away from these traditional vessels, most of them have at least one or two pots and pans. Rural towns and villages have not entirely experienced the wonders of non stick and plastic cookware and often use traditional vessels made of clay.
Water stored in clay pots remains cool and during summer months huge clay pots are in demand. In the same manner, certain dishes like fish gravy taste a lot better when prepared in clay vessels. It is common to spot clay pots being used to churn butter and store food in most rural areas. Cooking on clay pots takes time but it's well worth the effort.
Broken and cracked clay utensils are easy to dispose as they disintegrate naturally without leaving toxic waste. Due to this reason in some places like Mathura in North India, tea stalls still use clay cups called
mudkha
to serve tea to customers instead of plastic or paper cups.
Fully aware of the many benefits of earthen cookware, many Indians hold on to traditional clay cooking equipment. This has ensured that earthen cookware which is an inseparable part of Indian arts, crafts and culture, retains a place in even modern Indian kitchens.