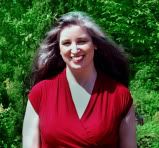 What influence does the place you live have on what write? How many different places have you lived?
Every city and village has a slightly different feel, and I draw quite a bit on my sense of various places. Iíve travelled quite a bit in my life. I was born in the US and lived in several different states ranging all the way from California to Florida. I lived in Japan for a short while in my university years and now I live in Scotland. I have to confess, though, that I feel more at home in Scotland than any place Iíve ever been before.
When did you realize that you wanted to write?
Iíve always made up stories as far back as I can remember. I studied writing at University, and wrote my first novel (an unpublishable mess) in my twenties. Then for about a decade, I focused more of my energy on other things, such as computer programming, which I did professionally for a while. But, I found programming to be soulless work, and I was constantly drawn back to writing in one form or another. I wrote a new novel about three years ago,
Ordinary Angels
, and it was picked up by a publisher. That relationship didnít work out, and I moved to self-publishing, one of the best things that could possibly have happened, in the end. Iíve been writing and publishing ever since.
Are you successful enough to write full time?
Fortunately, yes. Itís taken a lot of hard work and patience, but itís so exciting to be reaching readers. Nothing feels better than getting a note from someone whoís read and enjoyed my books. It certainly motivates me to keep working and writing my heart out.
What is your favorite genre to write in?
All of my books and stories so far have a fantasy bend to them. I love stories whose genesis is in the question Ďwhat if?í The Caledonia fae series also has some form of crime story or mystery as well as at least a touch of a romantic sub-plot, but these three are the genres I like to read (primarily fantasy and crime/thriller), so that probably explains why I also like to write those elements into my own books.
Do you plan out the entire book before you begin writing? Or do you just sit down and write?
I spend a couple of weeks outlining the story and developing any new characters. I used to write more by the seat of my pants, but I would too often paint myself into a corner. My outlines are flexible and often bend and sway with the writing process, but it keeps me from ever getting stuck or sitting down and asking ďwhat happens next?Ē
How did you choose the names for your characters?
Most of the fae charactersí names are either Scots Gaelic words (Eilidh means Light) or they are Gaelic names. As the stories move into other regions of the world, I pick up old names in other languages.
How completely do you develop your characters before you begin writing?
I use a character sheet that Iíve developed. I find it most useful to define their fears, goals, and inner conflict. I ask questions like: What would s/he most like to change about him/herself? What does s/he want that is in conflict with what others in the story want? I also define how what they want changes over the course of the book. For me, this type of question is much more useful than date of birth or favourite flavour of ice cream.
Do you have a set time that you write each day? Or do you wait to be inspired?
It takes me around six to eight weeks to write a first draft. Because I have set out a plan to write two books a year, I have to plan my time pretty carefully. (I have to allow a couple of weeks for planning/outlining and about three months for the editing process.) After I finish the outline, I plan to sit down in the mornings and write (on average) 2000 words a day. I canít afford to wait for inspiration, but I find inspiration comes as I write, not before I write.