If you wanted something strongly enough, would you give up your way of life, all your possessions, all you knew and walk over 25,000 miles for twenty-eight years to promote it? That is just what Mildred Norman Ryder did. In 1953, she began walking on a journey for peace. Mildred even gave up her name and wanted only to be called 'Peace Pilgrim'.
Mildred Lisette Norman was born on July 18, 1908 in Egg Harbor City, New Jersey. Her parents, Ernest Norman and Josephine Marie, owned a poultry farm. Ernest and Josephine were poor, but they taught their three children the richness of love and family. It was an extended family of nine -- Norman, Josephine, Mildred and her two siblings, an uncle, and three aunts. Their ancestors from Germany had been among the settlers who had founded Egg Harbor City.
Mildred married Stanley Ryder in 1933. The marriage did not go well. Mildred and Stanley had differences too far apart for any reconciliations to save the marriage. In 1938, Mildred had what she saw as a spiritual awakening. She prayed for guidance and realized that all the material things she had was not needed. She arose from where she sat praying on a mountain and began walking, never doubting herself or her mission. She had found her purpose in life and never turned away from it. She gave up everything to let her spirit and heart guide her. Mildred and Stanley eventually got a divorce and Mildred, heeding her calling, began her journey.
Mildred had a strong will and determination -- she had faith in herself and faith in mankind. Her belief was that good, truth, and love can overcome evil, falsehood, and hate. She was a spiritual teacher and advocate of peace. She believed in so strongly that the world could have peace and she made it her mission in life to spread the word. Mildred began a true pilgrimage, on foot and faith, alone and unafraid of what she might encounter. She carried with her only what could fit in her pockets and a small satchel with petitions for peace to be sent to the President of the United States, congressional leaders, and the United Nations.
Mildred was the first woman to hike the Appalachian trail, the full length of it, in one season. In 1952, the year before she began her pilgrimage across the country, Mildred, along with her friend, Richard Lamb, walked from Mt. Oglethorpe in Georgia to the trails end at Mt. Katahdin in Maine.
On January 1, 1953, Mildred began walking across the nation from coast to coast, relying only on faith and the helping hands of people. She had no money and no provisions. She walked till she was given food and shelter by kind-hearted folks, then continued on her mission of peace. For twenty-eight years Mildred walked across the United States in all kinds of weather.
She knew there was a desire for peace in the hearts of humanity and was determined to bring it out into the open with her simple yet inspiring messages. She walked across the country, back and forth, seven times, speaking at churches or universities about what her mission was all about.
In July of 1981, Mildred was being driven to a scheduled speaking near Knox, Indiana. The automobile she was riding in became involved in an accident. Mildred died in the accident.
Peace Pilgrim is remembered in the little community where she was born. She is honored with a birthday celebration in Egg Harbor City at the Peace Pilgrim Park every year, in July.

Mildred Norman Ryder
July 18, 1908 - July 7, 1981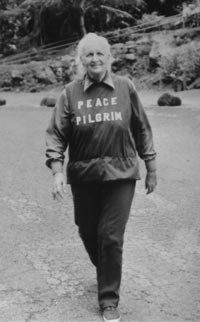 Peace Pilgrim left a legacy for all of us. Her personal mission was to "remain a wanderer until mankind has learned the way of peace, walking until given shelter and fasting until given food." If you find it in your heart to attain that which will bring peace to yourself and also to the world, then follow your heart and find your peace, for it is there within you.
For more comprehensive information about Mildred Norman Ryder, visit the
Peace Pilgrim
web site.
Image credits:
Dove of Peace, Wikipedia Public Domain
Peace Pilgrim, Wikipedia Creative Commons