Prune Men, or Prune People "Zwetschgenmaennla" really because over the years
Zwetschgenmaennla
, who were originally prune boys and have been around since 1790, were joined later by prune girls or
Zwetschgenweibla
, are one of the most popular traditional German handcrafts to be found all year.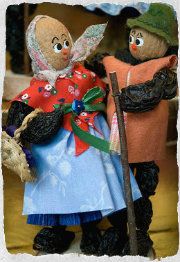 Although as
"Good Luck"
symbols especially around Christmas and
Silvester
, New Year.
Also known as
Pflaumenmaennchen
and
Quetschenmaennchen
, plum people are usually around 15 cms, six inches, tall and are "Dried fruit people" made from dried plums, figs, raisins and nuts: figs for the bodies, prunes for arms and legs, raisins for hands, sometimes peanuts in their shells for feet, and with painted walnuts as heads.
Using scraps of fabric the dolls are dressed in hundreds of different ways, to become little men and women.
Everything from Gardeners,
Chimney Sweeps
and Cooks to Guitar players, Priests and "Omas", Grandmothers, with their half finished pieces of knitting on needles.
In fact there is a community of Prune People, and as a handicraft it is found in many European fruit growing areas, with more than one story as to how they first came about.
Ranging from a Nuremberg father whose work involved using wire who invented the doll as a surprise for his children; orphans who were given the job of making toys in order to bring some money into their orphanage in the Cologne region; and a sick old man rewarding the neighbor's children used to help him.
Being poor he could not pay them for their work so, as a "Thank You", made little dried fruit people from the fruit and nuts which originally had come from his garden.
The handcrafted figurines could also have been brought into Germany from the East, created during Europe's 17th century Thirty Years War as children's toys by Croatian cavalrymen, as the word
"Zwetschge"
is not of German origin but a Slavic expression for "plum".
Whatever their real origins Dried Plum People are considered a "Good Luck" symbol in Germany, and it is said that:
"You will never be without gold and happiness, if you have a prune person in your house".
Often a dried plum Chimney Sweep is a gift given at Christmas, New Year and
Weddings
and one of the many Zwetschgenmaennla chosen as a
Birthday
present, which, as there is a longstanding German tradition that a Chimney sweep is also a "Good Luck" symbol, means twice the amount of luck.
It isn't difficult to make Zwetschgenmanderln, so if you would like one of your own here is a guide:
What you need:
Flexible but strong Wire
Dried Figs
Dried Plums, for arms, legs and feet
Peanuts in their shell an alternative for feet
Raisins for hands
Walnut, with smooth surface so it is easier to decorate
Small flat piece of wood as base
Glue or glue gun
Paint
Thread
Fabric scraps
The "How To":
Push two lengths of wire, about 7 inches, 17 cms, firmly into the base
Thread three dried plums on each wire
Bend the ones nearest the base slightly to make feet
Thread four dried figs through both wires, this is the doll's body
Bend one wire over the last fig and fix, keep one wire free as a foundation for the head
Take another length of wire, push it through the top dried fig. This will be the arms
Thread two dried plums on each "Arm".
There should be a little wire left over on each after the plums have been added, and a raisin can be fitted to these to make "Hands",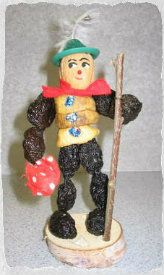 or left bare so that one or both ends can be bent to "grasp" onto something
Decorate a walnut with eyes, eyebrows, nose and mouth. These can be painted on, or the nose can be something small which is attached.
Fix the walnut head over the remaining wire so its length runs as far as possible through the nut, and this can be glued to the fig for extra security if necessary
Now you can "dress" your dried fruit doll which ever way you want, with scraps of cloth and/or items from craft stores
Now your 'Plum Man' or 'Plum Woman' is ready, to bring you, or whoever is to be the "Lucky" recipient, 'Good Luck'.
For topics in the news

And you can follow German Culture on Facebook
The DK Eyewitness Travel Guide: Germany has always been the country's best travel guide, whatever ever time of year you think of visiting....or just dreaming. Filled with travel as well as cultural information it has just been updated, and now is better than ever.