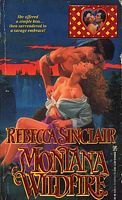 After the sudden death of her father, Amanda Lennox needs money to travel from Boston to the ranch she has inherited in Seattle. She sees an advertisement looking for a wilderness expert to take escort a young boy out to his father in Pony, Montana. What could be simpler? Though definitely not a wilderness expert, Amanda loves children,and this would get her close to where she needed to go. But she had never met a child such as Roger Thornton Bannister III.
Roger Thorton Bannister III is one spoiled brat of a child. He never listens, never does what he is told, and is pretty much convinced that he can do whatever he wants. It was extremely hard to find someone to escort him out west to his father, then even harder to keep the person from leaving once they became acquainted with the boy.
Jacob Blackhawk Chandler is the halfbreed, half Indian and half white, that comes to her rescue when she is trapped in a river (because of the brat she is taking out west) and is unable to free herself. This huge man is rude and stubborn, but Amanda is stubborn too. After a lot of bantering, he does get her out of the river, but then she discovers that Roger has vanished. This man, who has long been the object of ridicule and prejudice, is determined that he will not do anything for this prissy white lady. For some reason, he ends up helping her anyway.
Prejudice isnít just a thing of the twentieth century. One race had bad feelings against another race long before now. Before people were prejudice against blacks, against gays, against Christians, against Jews, they were prejudiced against Indians or Native Americans. I know it is terrible to think that people actually behaved in this manner against someone just because the person had Indian blood, but it did happen. Glossing it over or pretending it didnít happen wonít change the fact that it did occur.
Rebecca Sinclair did a fantastic job with this story about how the color of oneís skin doesnít matter or how the race one is doesnít matter. What matters is how you portray yourself to others. What matters is the type of person you truly are.
This romance novel full of twists and turns kept my attention from beginning to end. It is an awesome and entertaining read, but the intense passion contained within may not be appropriate for young readers. I believe this a book better suited for adults.
A copy of this book was sent to me free of charge in exchange for an honest review. If you would like a copy of this book to add to your library, I have provided an Amazon link below.