How does Kitten feel about self-publishing? When did she first have a desire to write? Does she plan out the entire book before sitting down to write it?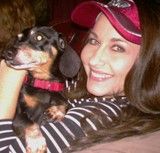 What are your thoughts on self-publishing?
I have mixed feelings about self-publishing. Of course, I love it since Iím sure I wouldnít ever be published, if it werenít for the opportunity to self-publish. When I wrote my first and second novels back in the early 90s, my fear of rejection kept me from attempting to find an agent or publisher. The same would most likely apply today.
I also love the fact that ďindiesĒ (self-published authors) retain all the rights to and control over their own works. They also earn larger royalties than traditionally published authors do. We have to do our own marketing, but unless one is a celebrity, traditionally published authors also have to market their own books.
On the down side, anyone can publish a book. That means that there are a lot of books out there that at best, need a lot of work, and at worst, should never see the light of a computer. The market is flooded with so many books that itís difficult to get the attention of the readers who would enjoy your work.
Overall, though there are drawbacks, I think self-publishing is a wonderful thing. I love seeing my stories on a computer screen, or even better, in print. Thatís something I never wouldíve experienced, if it werenít for self-publishing. I was born to write, and I know that those who like my genre(s) will like my books. The difficult part is getting the attention of the readers, and for your helping me do that, Lisa, I thank you.
How important do you believe having a good editor is for the success of your book?
Good editing is second only to a good story. The importance of good editing canít be overstated. Few people have the ability to write, proofread, and edit anything wellónot to mention, their own work. The evidence of this is in so many self-published books that are poorly written, and obviously not professionally edited. There are so many mistakes that itís distracting, and difficult to read, even if itís a good story. Iíve read some to see what was out there, but I wonít put myself through it again.
I edited
Keeping Secrets
myself because I knew I had the ability to do it well. Iíve always had a love affair with words and an eye for spotting errors. Iíve never read a traditionally published book in which I didnít find errors.
Very few writers are able to make a living writing, and as of now, that includes me. For that reason, I am hoping to work as an editor for other writers, for a reasonable fee.
When did you first have a desire to write?
Iíve always loved writing. I remember starting to write my ďlife storyĒ countless times in high school! (I had a pretty eventful life, even back then, including going to the prom with the most popular guy in school, running over and killing a child, and having a football coach at my school abuse me.) I wanted to be a lot of other things over the years, but writing was something that seemed to be a part of me. It was something I felt the need to do. Itís not just what I doóitís who I am.
Do you plan the entire book before writing it? Or do you just sit down and write?
I usually get an idea in my mind for a story. From there, I develop the characters, also in my mind. Then, when I begin to write, I keep notes on the characteristics of each character, so they are consistent. I get to know them so well that they become real people to me. (That can be a hazard, as itís sometimes difficult to remember that the reader doesnít know the character the way I do, and needs to be shown who he/she is!) From there, itís like the characters themselves write the story.
Keeping Secrets was the third novel Iíve written, and
No More Skeletons
was the fourth. Iíve never known while writing a story, how it would end. Iíve never outlined a story. Thatís not to say itís not a good ideaóonly that I donít do it. I just start writing, and it flowsÖand flowsÖand flows.
Do you have a set time to write each day? Or do you wait to be inspired?
I write any time of the day or night, but my favorite time to write is late at night. There are fewer distractions (usually only my little mini dachshund, Peej, asking for treats), and itís much easier to concentrate.
The interview concludes in
Conclusion of Interview with Kitten K. Jackson
.