A fiction writer plays with reality by using words to create a story. A magician tricks people into seeing things that aren't really happening by using illusion to create a false sense of reality. What would a group of magicians be called?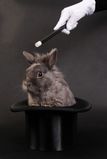 public domain
If David Copperfield, Doug Henning, Siegfried and Roy, Houdini, and Mark Wilson were all together in the same room, we would have
an illusion of magicians
. What if they had a contest to see who could put on the best performance? Could we trust the outcome? Or would it all be an illusion?
Houdini, probably the most famous magician of all time, did not have instant success in his magic career. He became famous for his daring escapes. The first escape he made was from a strait jacket, but he escaped from it while hanging upside down suspended by his ankles many feet above ground. Some of the escapes he went on to make were from jail cells, handcuffs, locked canvas mailbags, and padlocked crates that were thrown into rivers.
One of the best known magicians is David Copperfield. He was born David Kotkin in 1956 in New Jersey. By the time he turned 16, he was teaching a course on magic at New York University and performing under the name David Copperfield. I always wondered if he took his stage name after the Charles Dickens' character. This would make him of special interest to writers of fiction. The illusions he has performed inspire the imagination, and his name is the same as one of the greatest literary characters of all time.
David Copperfield has done more than pull a rabbit out of a hat. Things that should be impossible to make vanish, he has made them disappear. These things include the Statue of Liberty, a jet airplane, and a 45-ton Orient Express Train Car.
He has performed illusions such as walking through the Great Wall of China. He broke free of chains and shackles right before plunging over Niagara Falls. He has escaped from the prison that is said to be impossible to escape from, Alcatraz. He survived being locked inside a safe that was in a building that exploded.
I wonder how much his life insurance costs him. He has also dangled upside down from burning ropes. He is confined in a strait jacket and is 10 stories above flaming steel spikes. You could write a story where your character is a magician who performs daring stunts like these. Write about when he is visited by an individual who is selling life insurance.
You could pick any of the illusions that David Copperfield has done and have your character try and figure out how to perform the same illusions. Maybe your magician tries to use magic to steal his secrets. Does he succeed?
What will the life of your character who is a magician be like? Will everything in his life be saturated with magic? Will your character actually be involved in witchcraft? If so, does he allow this fact to be known? Does it somehow add to his popularity? Or does it cause him problems?
Your child has a great interest in magic and wants to become a magician, so you have hired an illusion of magicians to perform at our child's birthday party. But there is something not right about all of these magicians, and the party doesn't go as you thought it would. What happened?